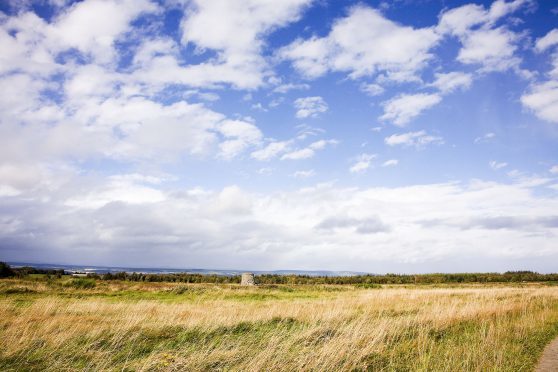 A CONSERVATION charity is bidding to block shock plans to build a line of huge electricity pylons on the edge of the historic Culloden Battlefield.
The National Trust for Scotland (NTS) last night branded energy giant SSE's proposals "unacceptable" and demanded firm go back to the drawing board.
The scheme would mean three large power lines passing within a mile of each other near the world famous site on the outskirts of the Highland capital.
Towering 165ft pylons are proposed as part of plans by SSE to "reinforce" its transmission system with a new line stretching from Beauly to Kintore in Aberdeenshire, via the Blackhillock substation in Moray.
The exact route of the pylons has not been decided – but SSE's preferred option follows a corridor just to the south of Culloden field.
It was the scene of the last pitched battle on British soil and is now a war grave which attracts thousands of visitors to the area every year.
The NTS, which operates the visitor centre and is responsible for the battlefield, has also raised concerns about the power line's proximity to the 4,000-year-old Clava Cairns, as well as other historic attractions such as Castle Fraser and Leith Hall in Aberdeenshire.
The charity's chief executive, Simon Skinner, has now written to Scottish Hydro Electric Transmission (SHE Transmission) setting out his concerns.
He said: "Our own research has found that overhead power lines are identified by both our members and the wider public as one of the most significant factors in degrading valued landscapes.
"It is therefore imperative that the careful siting and, where appropriate, undergrounding of power cables is followed.
"Without these protections, the enjoyment of our nationally and internationally valued landscapes will be damaged, with all the consequences that follow.
"It is unacceptable, for example, that in the case of Culloden there would be no fewer than three large overhead lines passing through this glen within a mile or so of each other. This is not something we can support."
The charity previously opposed the controversial Beauly-Denny power line and has since expressed concern about its impact on wild landscapes.
Mr Skinner added: "I completely understand that the country needs to upgrade its capacity to transmit electricity.
"What disappoints me with this scheme is that SSE seems to be coming up with the cheapest, least imaginative and most damaging options possible."
SHE Transmission held consultation events along the length of the route earlier this year and also met representatives of NTS and other statutory bodies.
It is currently reviewing feedback before consulting on a refined route corridor next year.
Local councillor Ken Gowans believes SHE Transmission will have to reconsider its plans after Highland Council expanded the conservation area around the iconic battlefield in December to protect it from major development.
He added: "I'm very concerned about the visual impact on the battlefield. It's vitally important that we do everything we can to maintain its character.
"We also have to remember that it is a war grave and we have to keep that in mind at all times when dealing with development in the area."
Fellow ward member Councillor Jim Crawford said it would be "irresponsible" to allow power lines so close to the site and urged SSE to consider burying its cables.
A spokesman for SHE Transmission said the work was necessary "for the lights to stay on".
He added: "We do everything we can to make sure this is done in a cost-effective way, while being sympathetic to the natural environment.
"We have held over 20 productive consultation meetings as part of the Beauly, Blackhillock, Kintore project and we take the opinions of the public and statutory bodies seriously.
"We assess the best possible engineering option, and undergrounding is not a panacea as it can be extremely damaging to the environment as it could require up to a 6ft 5in deep trench the width of dual carriageway to be carved through the landscape."