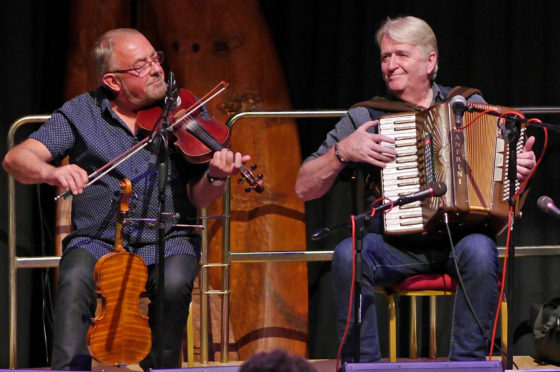 Folk musician Aly Bain has postponed a number of his upcoming performances while he recovers from a triple heart bypass.
The Shetland fiddler, who gigs with fellow musician Phil Cunningham, was "urgently" taken to hospital after falling ill at the close of their spring tour of Scotland.
Last week he went under the knife at Aberdeen Royal Infirmary for open heart surgery and was given a triple bypass.
In a statement, the bandmates said: "Thankfully, his diagnosis and treatment were speedy and he is now out of hospital and has begun the lengthy recuperation process."
However they have acknowledged that Mr Bain has a "lengthy road" before he is fully recovered, and have cancelled a number of their upcoming concerts.
Bain is working to be "match fit" for the second half of their autumn tour, aiming to return to the stage on August 31 at the Eden Court Theatre in Inverness.
The statement said: "Our agents, Firefly Productions, will work very closely with all affected venues to reschedule the gigs and minimise the disruption to them and of course our valued audience.
"This is the first time, in their 33 year duo career, that they have had to cancel a tour due to ill health.
"When Phil had his heart attack in 1997, he waited till after the tour."
Customers who purchased tickets for the affected shows will be refunded automatically.
Those with paper copies can get their money back from the point of purchase.