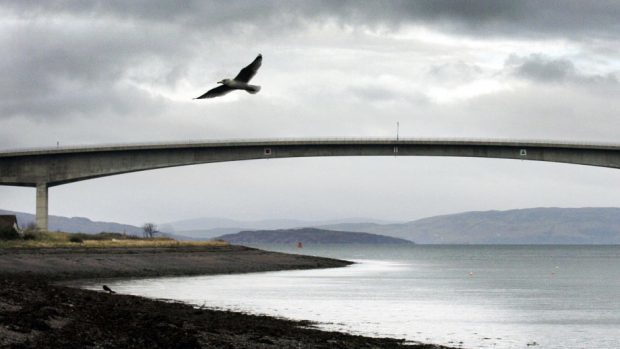 A body of a woman has been recovered after a search at Skye Bridge.
A car found on the summit of the bridge sparked a multi-agency search operation yesterday to locate the driver of the vehicle.
Police confirmed a call had been received around 8.45am with an appeal issued to members of the public to trace 38-year-old woman Zsuzsanna Kovacs.
The Kyle of Lochalsh and Portree lifeboats, a Coastguard search and rescue helicopter and ground teams, and an ambulance were tasked to assist in the search to locate the woman.
A Coastguard spokeswoman said: "HM Coastguard has been coordinating the search for a missing person in the Skye Bridge area in Scotland.
"The search began shortly before 10am today and involved RNLI Lifeboats from Kyle and Portree, Coastguard Rescue Teams from Kyle, Portree, Dunvegan and Applecross along with the Coastguard Rescue helicopter from Inverness.
"The person was found by the Coastguard Rescue helicopter and taken directly to Broadford Hospital on the Isle of Skye."
Maritime Operations controller Angus MacIver said: "The search effort was assisted by a number of local boats responding to our broadcast. HM Coastguard would like to express thanks to all those who assisted us with the search effort."
The police spokeswoman added: "We can confirm that the body of a woman has been recovered during searches at Skye Bridge today.
"The family of Zsuzsanna Kovacs has been informed however formal identification has yet to take place.
"We would like to thank everyone who shared our appeal for information today and to all those assisted with the search.
"Our thoughts are with the family Zsuzsanna at this very sad time."