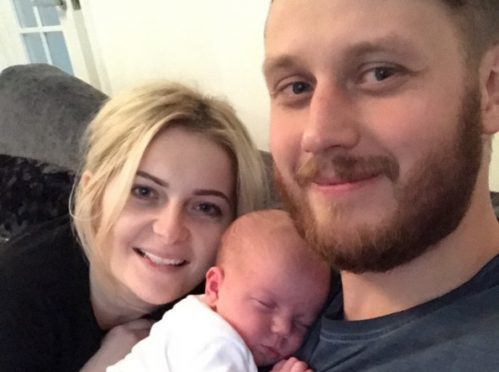 A Moray man will tackle a half marathon to raise awareness of the rare condition that his baby son has been diagnosed with.
Robbie Woods, from Forres, will take inspiration from little Reo as he lines up for the start of the Simplyhealth Great Aberdeen Run.
The 28-year-old and his wife, Kelly, were devastated when the tot was born last November with Poland syndrome, a condition which means he has no chest muscle on one side of his body.
It also means he has one hand and arm which is smaller than the other, and other complications may yet emerge.
The couple was shocked by how little medical information was available to them as they came to terms with the diagnosis.
However, they found support from the small family-run Pip UK charity which is dedicated especially to the rare illness.
And Mr Woods will repay the group for its help as he raises funds in its honour during his 13-mile run in August.
The offshore worker said: "I'm doing it for Reo and for other families who might find themselves in the position we are in.
"That's all the motivation I need.
"His condition is so rare that neither us, nor any of our friends, had heard about and there aren't any British specialists."
Mr Woods will be joined by 12 of his colleagues from the BP ETAP rig on the sponsored run.
He hopes to raise £10,000 for Pip UK – which normally gets by on just £500 every year.
Mrs Woods added: "There are possibly related issues which we won't know about until Reo gets MRI scans and x-rays when he's older.
"His heart and lungs are in the right place but we are not 100% sure about his liver and kidneys.
"I must admit I struggled with all of this at the beginning.
"But we now want to do what we can so that anyone else who has a baby with this condition won't find it so daunting."
Mr Woods will join thousands of other runners on Sunday, August 27.
A 10km, half marathon, family mile and business challenge will all start and finish on Union Street.
People can sign up to take part at greatrun.org/Aberdeen.