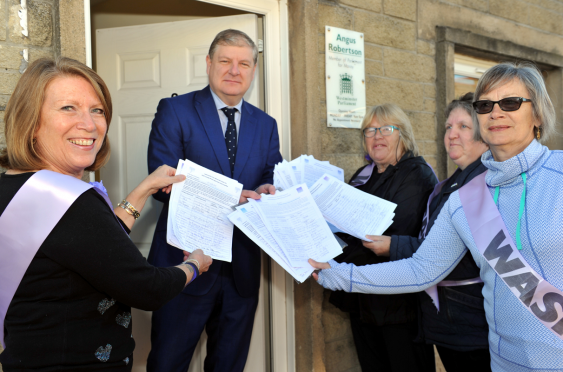 Moray's SNP and Conservative general election candidates have butted heads over a pensions row which affects thousands of local women.
The Women Against State Pension Inequality (Waspi) campaigners took their fight to the centre of Elgin on Saturday.
The group is calling for changes to regulations which they fear will cost countless local women up to £40,000 each year in payments.
The protestors met the SNP's Angus Robertson and Tory Douglas Ross on Saturday, while they were canvassing on the Plainstones.
Yesterday, Mr Robertson said that only the Nationalists could be relied upon to battle against "Tory attempts to betray pensioners".
But Mr Ross argued that he would be able to more effectively bring about change from within the ruling party at Westminster.
Mr Robertson said: "Now more than ever, Scotland needs a strong SNP voice at Westminster to stop the Tories from having a free hand.
"The issue of pensions has come into sharp focus with changes to pensions that have been completely unfair to hundreds of thousands of women born in the 1950s.
"I have challenged the Prime Minister directly on these issues and will continue to fight for pension fairness."
Mr Ross countered that, as a Conservative, he would stand a better chance of securing the women affected a "better deal".
The current Highlands and Islands MSP said: "I was pleased to talk with the Waspi group in Moray at the weekend.
"I've attended the cross party group on this issue in the Scottish Parliament, and have said I will attend a similar group in Westminster if elected.
"I believe the best way to fight for a better deal is to have an MP for Moray at the heart of government speaking up on our behalf rather than an opposition politician speaking from the sidelines."