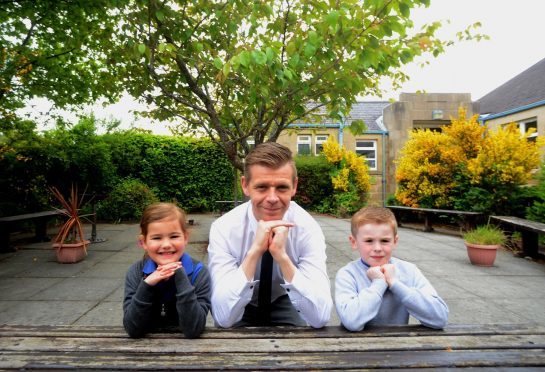 Pupils at a Moray primary school have started work on a bold plan to transform a "dull" outside area into an exciting new space for learning.
Staff and children from Elgin's Bishopmill Primary School have embarked on a £6,000 crusade to revamp and revitalise the unloved "millennium garden".
Their plans include creating a stage for outdoor drama performances, covering concrete with artificial grass, installing cooking appliances and building ramps for wheelchairs.
Organisers aim to begin the overhaul this summer, and believe the outdoor classroom will help boost pupils who struggle to learn in a traditional environment.
Yesterday, P1 youngsters, Staci Retson and Finlay McKenzie explored the site and spoke of their excitement at what the future could hold.
P7 teacher, Kevin Stuart, is spearheading the plans to rejuvenate the space and believes it will be adaptable for children of all ages.
He explained that the garden area was last renovated almost 20 years ago, as a way of marking the approach of the year 2000.
Mr Stuart said: "Since then, it's just fallen into disuse and become an abandoned, dull space.
"We are looking to do something with it now as it does offer us a great opportunity."
One parent attached to the school works at the Threaplands Garden Centre, near Lhanbryde.
And he has drawn up design images of what the garden could look like, following the modifications.
Children and parents are expected to stage a range of fundraisers in the coming months to help pay for the laundry list of additions.
Mr Stuart has no doubts about the benefits of outdoor learning.
He added: "It's a part of learning that is becoming more heavily promoted in Scotland.
"The classroom simply doesn't suit every pupil, some become much more engaged just by being outdoors.
"From what we have seen, they are able to retain knowledge more easily because they have been active and having fun while learning.
"Bishopmill is well-located in that we get to use nearby woods for outdoor sessions a lot.
"But having our own secure space, which we can use more frequently, would be ideal.
"We hope to make a start on it during the summer, but how much we get done depends on the amount raised."
Donations can be made at www.justgiving.com/crowdfunding/Bishopmill-Primary