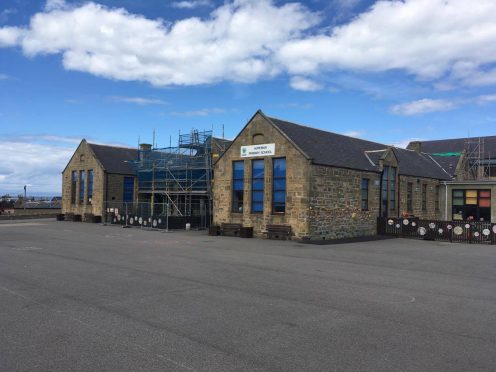 A Moray primary school was closed yesterday, while decontamination experts performed a "deep clean" of the building.
This followed the break-out of a contagious sickness bug, which led to around 20 pupils being sent home from Hopeman Primary School on Thursday after falling ill.
The normally busy grounds lay empty, with all 200 pupils forced to stay away, as the building was disinfected.
A Moray Council spokesman said the school was expected to reopen on Monday.
He added: "Around 20 pupils and one staff member went down with a sickness bug yesterday, with more than a dozen children being sent home throughout the day.
"The decision was taken to close the school and the nursery on Friday, affecting a total of more than 200 children, while a deep clean was carried out.
"That took place throughout the day and it is intended the school will reopen on Monday."
Parents were advised of the unexpected closure on Thursday night by text and email.
Hopeman mum, Carmen Gillies, has three children who all attend the local primary school.
She said that, while her youngsters remained healthy, they emerged from classes on Thursday with stories about how other children had become sick.
Last night Mrs Gillies added: "From what I understand, there were about 10 children from one class who all fell ill and it seemed to primarily affect the younger ones.
"But I have heard that it looks to be a 24-hour bug, and a lot of those who were ill have now recovered.
"I think parents are quite understanding about the school being closed, given the circumstances.
"And my children certainly loved having the day off, they couldn't believe it when I told them."
A sickness bug at Tomintoul Primary School caused spiralling absences during the week before the Christmas holidays last year.
A total of 40 pupils and 13 members of staff fell ill with the same symptoms, and the building was shut a day early before the festive break.