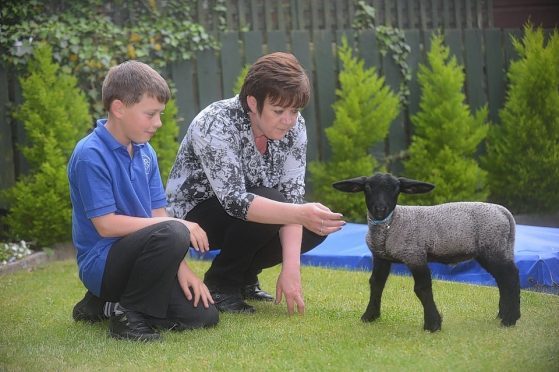 A Moray grandmother took a poorly lamb home after it was rejected by its mother, simply to offer the tiny animal a warm place to spend its final hours.
But little Oreo defied expectations by surviving the night – and has continued to thrive ever since.
The lamb is now five weeks old, and has become a beloved part of Karen Joslin-Smith's family.
The Elgin woman takes care of the cuddly creature like a pet – Oreo even has his own bright blue collar and responds when his name is called.
He has proved especially popular with her grandchildren, nine-year-old Reece and 20-month-old Georgina.
Ms Joslin-Smith said: "Oreo was born a twin to a first-time mother, who rejected both of the lambs.
"Sadly that is common with sheep who have given birth for the first time, and his twin died shortly afterwards."
Oreo was born on May 2, the same day that the Elgin granny was visiting Milton Brodie Croft with her daughter to see its little sheep.
The admin assistant added: "I was told that Oreo wasn't expected to survive because he had pneumonia and wasn't getting the right nutrients from his mum.
"So we brought him home, thinking that at least it would be nice to offer him a friendly place to pass away."
However, Oreo began to respond to the antibiotics Ms Joslin-Smith gave him, and quickly got better.
He was named after Oreo biscuits, because his colours are similar to the snack.
His new owner has built a playpen in her house, where the lamb sleeps at night, but the energetic character spends most of his time playing in the back garden.
The affectionate animal enjoys being petted by visitors, and isn't opposed to nudging those he thinks aren't paying him enough attention.
He will return to the farm when he is about 10 weeks old, and able to look after himself.
Mrs Joslin-Smith said: "He has become a part of the family, he follows us around everywhere.
"I'll be sad when he goes back to the farm, we will miss him."
Reece, who attends Bishopmill Primary School, added: "When she took Oreo home I thought my granny was weird, but I really like him and my friends are all asking to visit him."