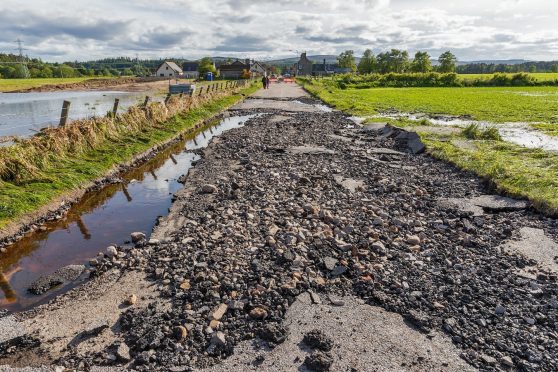 A road which was destroyed by flooding in Moray will not reopen until the middle of next week, the council has said.
Work is to begin immediately to repair a stretch of road on the outskirts of Dallas which suffered severe damage during Wednesday's flooding.
A Moray Council spokesman said: "Around 300 square metres will have to be resurfaced and the road – which links the village with the B9010 – is likely to remain closed until the middle of next week."
The damage to the roadway was caused by a torrent of floodwater after the nearby River Lossie topped its banks.
Homes in the village escaped damage largely thanks to a partially completed embankment currently under construction following flooding in 2014.
On that occasion 27 properties were affected with the cost of damage being put at £600,000.
Until the damaged roadway is repaired motorists are advised to take an alternative route via Dallas Lodge and Branchill before rejoining the B9010.
Several communities across the north-east suffered damage when more than a month's worth of rain fell in a day and a half and several rivcrs burst their banks,
In Garmouth, water flooded the streets and one home was inundated.
Meanwhile, in flood-hit Portsoy, where dozens of people had to be evacuated from flooded homes, the race is on to repair flood damage in time for its annual boat festival.
The village's Sail Loft, which was refurbished as part of a £2million scheme to provide holiday accommodation to tourists, was among affected properties.
The building had only recently been rented out for the season and was used last week by visitors attending Portsoy's music festival – the Haal.
wo weeks.
In addition to waterdamaged floors and furniture, the flooding has washed away the accommodation's only road.
Roger Goodyear, the festival's chairman, has said he is "hopeful" that repairs can be carried out as quickly as possible, but is unsure if they will be completed in time for this year's celebrations.