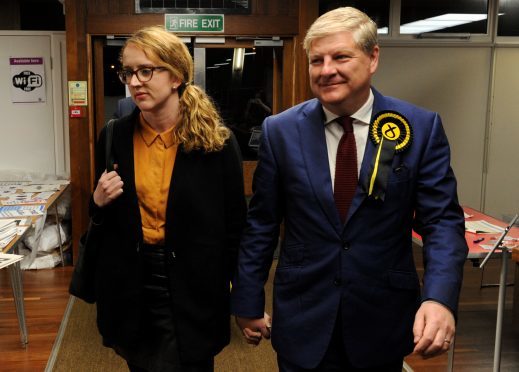 Two decades of SNP domination in Moray came to an end when the party's Westminster leader was toppled in one of the biggest shocks of the night.
Conservative Douglas Ross turned Angus Robertson's 9,000 majority from two years ago into a 4,000 lead for himself.
The SNP deputy leader declared "That's it from me" in a brief speech at Elgin Town Hall before leaving without answering questions.
Pollsters predicted the race between the two heavyweights to be too close to call in the days running up to the vote.
At the start of the night the race was expected to be tight with neither side willing to predict how it would turn.
However, shortly after midnight Conservative officials began to grow increasingly confident Highlands and Islands MSP Mr Ross had produced a surprise win.
The Tory claimed 22,637 votes – an increase of nearly 7,000 from his 2015 result. Meanwhile, Mr Robertson's support fell by about 6,000 to 18,478.
It was a swing that appeared to catch even Mr Ross by surprise.
He said: "I was hopeful but I've stood here before and have been beaten a few times by Angus before.
"However, our vote has always been increasing and there has been growing support in Moray.
"I had been receiving positive responses on the doorstep but I wasn't sure about the result until I was actually declared as MP."
Mr Robertson, who had held the seat sine 2001, said: "I will no longer be the leader of the third biggest parliamentary party at Westminster, I will no longer be able to hold the Prime Minister to account but someone else will from the SNP.
"That's it from me. It's time for me to go off and do something else."
Labour's Jo Kirby believed her party's downwards slide in Moray was beginning to turn.
She said: "We increased out support by 10%, which is great. We're making steady progress. It's a long-term project."
Lib Dem Alex Linklater, who did not attend the count, received 1,078 votes. Independent Anne Glen got 204 votes.
BACKGROUND: PMQs propelled Robertson to prominence
Angus Robertson became one of the SNP's most high-profile figures after the 2015 election, thanks to a weekly platform at Prime Minister's Questions.
As group leader at Westminster, and as a result of the SNP's newly-acquired third-party status, he was handed the task of challenging the UK Government on everything from welfare reforms to Brexit and foreign affairs.
Mr Robertson – who also took over as SNP depute leader in 2016 – has often been lauded for his PMQs performances, earning a reputation as a formidable opponent and potential future leadership contender.
Born in London to Scottish and German parents, he grew up in Edinburgh before attending university in Aberdeen.
He worked as a journalist and then as a European and international affairs adviser to SNP MSPs at Holyrood before he was elected to Westminster in 2001 to represent Moray.
He served as the party's defence spokesman and, in 2015, was appointed as a member of the Privy Council and the parliamentary Intelligence and Security Committee.
He was the party's campaigns director for the 2007 and 2011 Scottish elections and previously served as business convener, chairing the SNP's National Executive Committee, the annual national conference and the policy-making forum National Council.