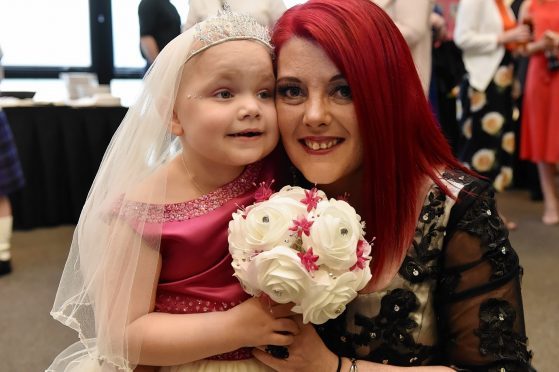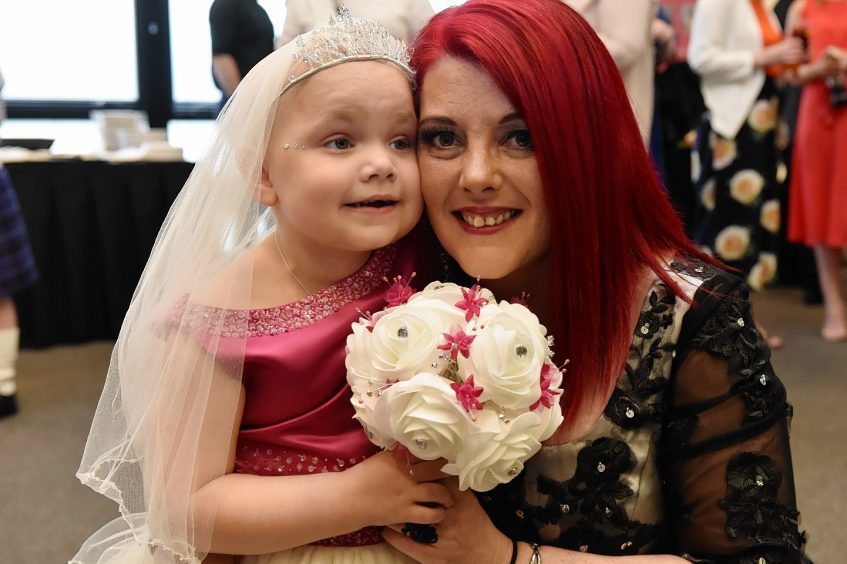 The night before her five-year-old daughter's fairytale "wedding", Gail Paterson was tasked with describing the youngster's battle with cancer in a script to be read on the big day.
The Forres mum organised the wedding as part of a bucket list formed after Eileidh Paterson's doctors advised that her condition is terminal.
VIDEO: Dream "wedding" delight for terminally ill Moray youngster
As the special ceremony approached, Ms Paterson reflected on her youngest child's struggles and on the emotional highs and lows of the previous few years.
The script refers to Eileidh's initial diagnosis in 2014, her family's joy at her being given the all-clear the following summer and the heartbreak of the disease's return.
It also recounts how Eileidh's spirit in the face of adversity has won her a legion of devoted followers, who helped raise more than £120,000 to send her to America for treatment.
But, in keeping with the magical theme of the day, the story has been reworked as a fairy tale and contains several poignant metaphors.
And below is the full script that was read out before Eileidh and Harrison Grier exchanged necklaces and were declared "best friends forever" at the AECC on Sunday.
Once upon a time, well, five years ago, a beautiful little baby girl was born, with tiny rosebud lips.
Her name was Eileidh Rose.
No-one knew it then, but she would become a great warrior, a princess who will stop at nothing to survive.
Eileidh was a content little girl who enjoyed the simple things in life.
Whether it was playing with her brothers and sister, causing mayhem with her cousin or just sitting out in the sun, she always did it with a smile.
The first few years of her life were fun, noisy and happy.
Day trips, wrecking Auntie Ree's house, building DVD towers with Sophie, playing with sister Cerys's makeup and chasing brother Callum with wooden spoons were some of her favourite things to do until one day, an evil beast arrived and threatened to destroy everything.
The beast tried its best to destroy Eileidh and her kingdom but she would not back down. She may have only been two but she was ready for the fight of her life.
To begin with, it looked like the beast may win.
However, slowly but surely, Eileidh began to fight back.
The first few weeks were the hardest, not knowing which way to go or how to defeat the beast but as time went on, Eileidh became stronger and stronger.
It took her hair but it couldn't take her smile.
Along the way, people began to join Eileidhs kingdom and her army, vowing to do all that was possible to help her win.
Her kingdom grew bigger each day until she had thousands of people behind her.
Over time, Eileidh managed to banish the beast and the work began to protect her from it returning.
Her defences were broken down, to be replaced and even though she was locked away with only her mum for weeks, she came back stronger than before.
Eileidh travelled to different places looking for a permanent way to banish the beast forever and gained a larger army every time.
Along the way, Belle, Elsa and Anna, Snow White and even Batman joined forces with her too.
Eventually Eileidhs army helped her to travel to another land, hoping she had found a magic potion that would finally destroy the beast.
For 11 months, the kingdom stayed quiet.
Eileidh was finally able to be a child again, enjoying life, jumping in puddles and being mischievous, without having to spend every day fighting.
Her army went back to their normal lives, happy with the knowledge that Eileidh was safe.
Life was what it should be. It seemed like the magic potion had worked and all was good.
During this time, Eileidh met a handsome prince called Harrison.
Harrison knew little about the beast but he was still willing to stay and protect Eileidh.
He made her smile and she was happiest when he was around, making her forget that she had this awful life.
Harrison didn't see Eileidh as a warrior or see that she was different. To him, she was just Eileidh.
Then suddenly, from out of nowhere, the beast came back and attacked once more.
Once again, Eileidh had to fight for her life but this time, her loyal army were there, ready to fight alongside her.
This time the beast hit her harder.
It attacked much more aggressively, taking her hair again and causing her huge amounts of pain but after four rounds with Eileidh fighting with everything she had, it disappeared.
This time it was harder to return to normal as now the beast had returned once, we knew that it would come back again with all its might, angry because Eileidh had now defeated it twice.
This time we expected the beast to return at any time, checking round every corner and jumping at every noise in the night.
Throughout all the worry and fear, Eileidh refused to let it stop her enjoying every minute she could with Harrison.
She may have been tired and still sore from the battle but Harrison always made sure that she was happy, taking her away from all the bad memories and giving her good ones instead.
As we had all feared, the beast came back with a vengeance.
It attacked from every direction, desperate to finally win.
This time it was a much more difficult fight. It was stronger than before and Eileidh was tired and battle-worn.
At times it looked like the beast was going to win but like always, Eileidh hit back.
She stood her ground, hand in hand with Harrison and refused to let it win.
She fought harder than she had ever done before, surprising everyone with the amount of strength she had gained.
This time, Eileidh didn't go into battle alone. This time she had her army and something else… magic.
Magical beams were fired at the beast and slowed it down.
Unfortunately it didn't slow it down for long but soon a new potion was found.
This was a relatively new potion which had a lot of uncertainty but in this fight, anything was worth a try and at least it wouldn't turn her into a bear like the potion Merida got.
To begin with, it looked like it wasn't going to work but suddenly the beast backed off, leaving their land.
With her entire kingdom crossing their fingers, it looked like Eileidh was winning and that the beast would finally leave forever. Whether this happens remains to be seen but we all have hope.
Eileidh rarely lets anything stop her so why should this beast be allowed to destroy anything else?
Harrison wants to marry Eileidh more than anything so that's what they decided to do.
No beast can take away happiness unless it is allowed to.
If Eileidh and Harrison can be happy, smile and enjoy the little things then that's what we should all do.
Make the most of every single day as no one knows what will happen the next.
Enjoy life, enjoy each other, stand strong and more than anything, believe, hope and love.
If anyone deserves a happily ever after, then it is most definitely them!
This has been a very long and difficult journey for EIleidh and it is now their journey together, with Harrison by her side.