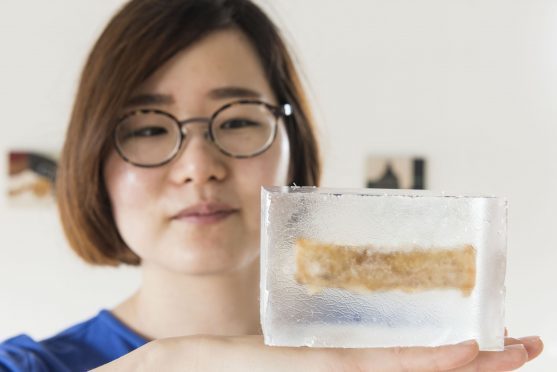 The historic architecture of one of Speyside's most famous distilleries has inspired a new exhibition.
Artists from across the globe have been living and working at Glenfiddich to soak in the atmosphere and heritage of the warehouses and stills.
Buildings on the site date back to the formation of the world famous Dufftown brand at the end of the 19th Century.
The Moray visit was the first residency for Jeehee Park.
The shapes of the weathered warehouses inspired the Korean artist to form delicacies from her homeland and encase them in latex.
Sitaram Swain, from India, will be displaying a range of sculptures, paintings and prints as well as intricate works featuring rice grains of paper.
And Fran Rokhlin, a graduate from the Edinburgh College of Art, has used copper similar to the metal the stills are made out of to create exhibits inspired by early techniques of printing and etching.
Work from the talents will form an exhibition, which opens tomorrow at the distillery's gallery.
A total of seven artists have taken part in the programme, which has given them access to the raw beauty of Speyside to help widen their creative boundaries.
Andy Fairgrieve, curator of Glenfiddich's artist in residence programme, believes the artists have the potential to forge prolific careers.
He said: "The initiative is a unique opportunity for some of the world's leading contemporary artists to come together at Glenfiddich, interact and be inspired to create new work.
"Our selection process also ensures that new creative talent is recognised and included as part of our efforts to nurture and support emerging artist as they establish their careers.
"The final exhibition of work by this year's artists is a wonderful showcase of new talent that bodes well for the future of global contemporary art."
The Glenfiddich Artists in Residence exhibition will run at the distillery gallery from tomorrow to Sunday, October 8 from 12.30pm to 5pm. Closed on Mondays and Tuesdays.