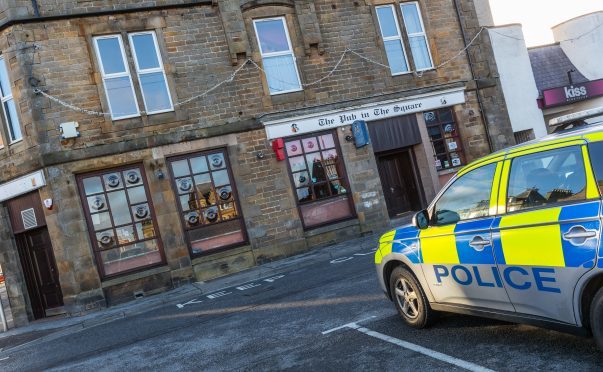 A Moray pub has been closed "until further notice" after a man collapsed and almost died.
Police and paramedics were called to the Pub in the Square in Buckie on Saturday.
It is understood that the man fell off a chair without warning, and became unresponsive.
Staff and customers in the busy bar sprang into action and performed CPR while waiting for the emergency services to arrive.
He was taken to Aberdeen Royal Infirmary and is believed to be seriously ill, although police would not confirm his condition last night.
Control room staff in Dundee were also unable to advise on whether there is thought to be any criminality involved.
But officers sealed off the pub on Saturday night, and remained on guard outside the premises yesterday.
And bar staff confirmed via Facebook that they did not know when the Pub in the Square might reopen.
A message online stated: "Due to unforeseen circumstances, the Pub in the Square will be closed until further notice."
A taxi driver described the hectic scenes that played out as emergency services rushed to the bar at about 8pm.
He said: "There were two ambulances and police cars in Cluny Square, there was a fair bit of activity.
"People are saying that the man just collapsed off a chair."
Buckie councillor Gordon Cowie said the incident had left revellers in the popular pub at the time shaken.
He said: "It is a very busy pub, especially on a Saturday, so this has affected a lot of people.
"Buckie is a small place, and we don't like hearing about anything like this.
"All we can do is hope for the best for this man's health."
Fellow Buckie councillor, Sonya Warren, praised the staff and customers who rushed to help the man, who is believed to be from the north of England.
She said: "I'm shocked to hear of the incident on Saturday night.
"But I'm extremely thankful that there were staff and customers with first aid training that reacted so quickly to the man's condition.
"I am full of praise and thanks to the people who administered first aid until paramedics and police arrived.
"It must have been very difficult for everyone concerned, especially on a busy Saturday night."