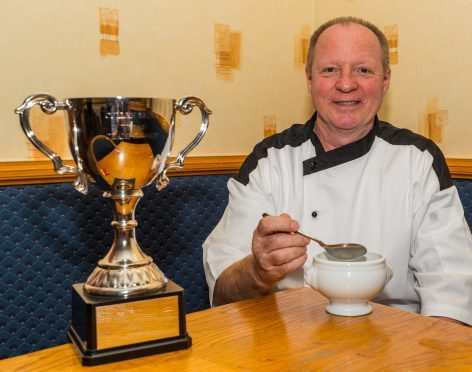 A Cullen hotel has retained its crown as the best in the world when it comes to making the creamy soup named after the village.
The Cullen Skink World Championships took place at the seaside spot yesterday, with cooks from all over the UK battling to have their broths take top honours.
But following a blind taste test, judges declared that the tastiest version of the smoked haddock and potato soup was that offered up by the Cullen Bay Hotel – the host of the contest.
Jubilant owner, Ian Watson, said the trophy would now return to its pride of place at the building's entrance.
And he attributed his success to using ingredients sourced entirely from within five miles of the hotel.
Mr Watson said: "There is a high degree of pride in being local and serving the best Cullen Skink.
"I think the secret to winning was using quality ingredients from the local environment."
Mr Watson said that, since landing the trophy during the previous event in 2015, he had received visits from soup fans travelling from Egypt, India and Japan – all eager to sample his recipe.
And he is hopeful that the launch of the North East 250 tourist route, which encompasses Cullen, will bring in even more international guests.
Adventurous chefs served up versions of the soup featuring whisky, apple, chilli and curry powder in the accompanying "Cullen Skink with a twist" competition.
But it was the simple addition of leeks, by Kyle of Lochalsh woman Margaret Mcrae which won favour with the judges.
Mrs Mcrae runs the Buth Bheag cafe, and says she was compelled to enter the contest by customers who enjoyed her tasty take on the Scottish staple.
She said: "A few regulars have suggested that I should give this a go, and I'm delighted I have a trophy to take back with me."
The event was launched by the Cullen Voluntary Tourist Initiative in 2012 as a way of highlighting the picturesque Moray village.
It was postponed last year, following the death of leading organiser Brian Lawrence in a car crash.
Group secretary, Graham Bell, confirmed that the competition would return next year.
He added: "We had cooks from Edinburgh and Cornwall enter this year, and we hope its popularity continues to grow."