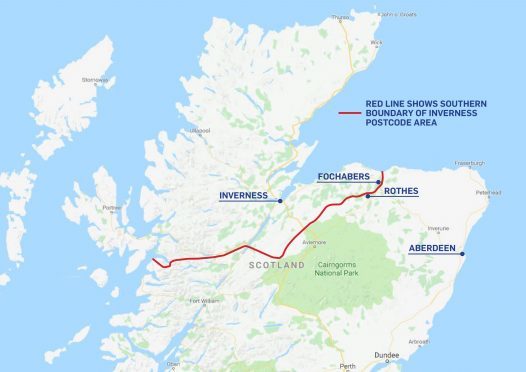 It has emerged that companies are charging extra to deliver parcels to parts of Moray and the Highlands because they are not considered to be on the "mainland".
Online retailers have found cases where customers have been charged up to four times as much as the rest of the UK to deliver to the north and north-east of the country.
And now, Moray MSP Richard Lochhead has highlighted that the price difference between postage to an Aberdeen and Inverness postcodes can be up to £32.99 for products which cost less than £5.
The SNP politician visited Kirkhill, near Rothes, yesterday to reveal that the boundary that divides the area considered to be "mainland" from the north actually cuts through fields.
Residents in the area have resorted to making their own arrangements in order to avoid paying the inflated cost.
Ann Wardlaw said: "When I've ordered parcels in the past, I've had them bouncing between Aberdeen and Inverness about three times because nobody wanted to come here.
"It's silly really. It shouldn't matter where you live. If I'm ever ordering anything, I get it delivered to my friend in Rothes because I know it's cheaper."
Mrs Wardlaw, whose house has an IV postcode, has seen delivery vans pass her front door to get to Rothes, which has an AB postcode, to offer cheaper delivery.
Mr Lochhead is leading a debate today in the Scottish Parliament to highlight the issue and press for controls to be introduced to regulate delivery costs.
He said: "It's ludicrous that some companies drive through IV postcodes to get to AB postcodes to offer free delivery, but in some cases, they even refuse to deliver to the homes they have to drive past.
"It's bizarre that residents one side of a field can be quoted one price and their neighbours on the other side get another.
"This 'mainlaind' boundary between Inverness and Aberdeen postcodes is another illustration of an anomaly and how unfair some of these astronomical surcharges are."
Kate Forbes, MSP for Skye, Lochaber and Badenoch, added: "Some online retailers charge more or refuse delivery because they classify the Highlands and islands as 'overseas'.
"I go home to Dingwall from Edinburgh every week and I've never needed a passport. I've never needed a boat either."