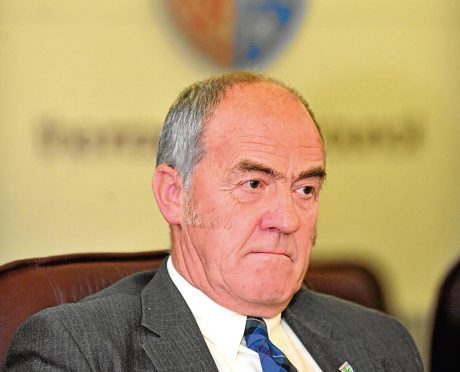 Public toilets, school librarians, lollipop patrols and eight community buildings could all be axed as part of sweeping cuts aimed at saving Moray Council more than £6million.
Bin collections could also be reduced to once every three weeks, according to the authority's financial plan.
Members of the Conservative and independent administration have put together the swathe of proposals designed at staving off bankruptcy for the organisation.
The 13 services under threat – and what savings could be made from them
And yesterday fresh warnings were issued there could still be worse to come in the future as the authority attempts to plug a £23million shortfall before March 2019.
Meanwhile, opposition members believe inaction from senior councillors has led the region to "crisis point".
Council leader George Alexander said: "We've made all the efficiency savings we can and yet we have maintained services, but now we're in the position where more dramatic reductions in expenditure must be made.
"Some of the proposals we are making, in an effort to balance the budget, are very painful.
"Unfortunately, all the indicators suggest we will have to make further serious changes to how the council operate in order to balance the 2019-20 budget."
Moray Council has now begun a massive consultation with residents across the region to ask them their views on the cuts.
Stage now set for community to take on – or lose – Elgin Town Hall
Last night, Mr Alexander described the early response to the debate as "encouraging".
It has been proposed to close town halls in Elgin, Forres, Findochty and Cullen as well as the Fisherman's Hall and Town House in Buckie, unless a community group can be found to take them on.
Community centres in Cullen and Dufftown fall under a similar proposal.
All 32 public toilets in the region could close.
Lunchtime school crossing patrollers could be axed and all services at quieter sites removed to save £118,000.
The number of school librarians in secondary schools could be halved to four.
Meanwhile, cutting bin collections to every three weeks will reduce costs by £100,000 per year.
An internal shake-up of council operations, including reduced overtime, energy saving and transport management, could save up to £1.2million.
A review of car parking and harbour fees will net an extra £129,000 with costs possibly being introduced for collecting white goods and increased in the planning department.
Graham Leadbitter, co-leader of the council's opposition SNP group, said his colleagues would continue to work with officials to prepare an alternative budget.
He said: "Our biggest concern throughout this is that over the last five years the administration has failed to take forward significant cost-saving measures we've proposed.
"As a result, the council is now at a crisis point due to the inaction of previous years – some of the councillors responsible for that are still there.
"We will find common ground on some points but other areas will be more challenging and we will be paying close attention to what the public say."
Moray Council has already saved £37million over the last eight years but last week was highlighted as being at financial risk by Audit Scotland.
Officials are expecting next year's budget to come under increased pressure due to an expected £5million decrease in income from government, £2.5million extra in costs due to inflation and a £1million increase in debt repayment.
Yesterday Tim Eagle, leader of the council's Conservative group, stressed none of the proposals were finalised and would be shaped by the consultation, which runs until January 14.
He said: "It is not an easy task but savings do have to be made somewhere and none of the options are very palatable."