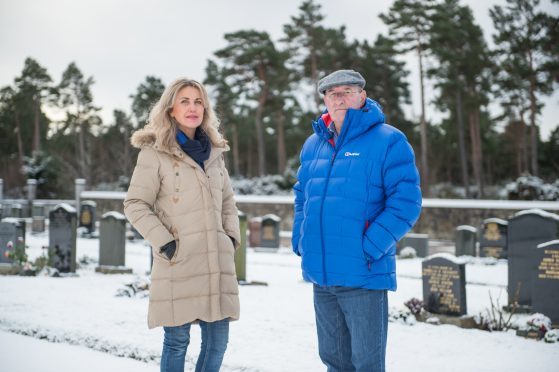 Fears have been raised that the peaceful solitude of a Moray cemetery could be shattered by a quarry expansion.
Tarmac wants to open up new ground at their Caysbriggs development near Lossiemouth to extract cobblestones from the site – directly opposite war graves on Inchbroom Road.
The town's community council has concerns the noise of digging into the ground as well as extra lorry traffic will disturb mourners paying respects to loved ones.
Yesterday, the firm explained they were putting extra measures in place to help control sounds coming from the quarry.
Carolle Ralph, vice-chairwoman of Lossiemouth Community Council, regularly walks in woodland near the area, which is popular with locals.
She said: "It's a big concern for us. The quarry could be built directly opposite the cemetery.
"It isn't just funerals that are held there. People go there for quiet reflection and to remember friends and family. It's quite a beautiful place.
"The last thing you will want to hear is the noise from excavation or more lorries going past. I don't know how it could possibly go ahead."
There are 11 Commonwealth burials at the cemetery from World War I and a further 101 from the World War II conflict, including six unidentified seamen from the Merchant Navy. The earliest graves date back to the mid-19th Century.
Tarmac has submitted initial proposals for the expansion to the council but are yet to send final documents for the quarry.
Stephen Cowan, estate manager for the firm, explained they had "worked closely" with planners to identify the best site to keep disruption to a minimum.
He said: "We understand that there is some concern about noise impacting the nearby cemetery.
"We have carried out noise measurements, which is standard as part of the tight controls we work to, as well as introducing new design features into our proposal that will help us manage any noise so that it doesn't cause a disturbance."
A public exhibition about the plans has been scheduled for tomorrow from 3pm to 7pm at the Stotfield Hotel in Lossiemouth.