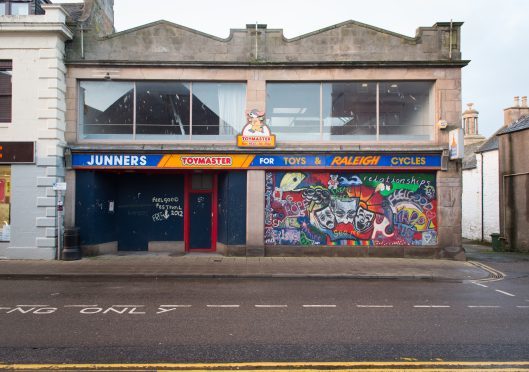 A toy shop in a Moray town faces an uncertain future once again after it was withdrawn from sale at an auction.
The former Junners toy and bicycle shop in Elgin has been due to go under the hammer three times since the beginning of December.
However, Wilsons Auctions has taken the large South Street building off the sales sheet again – and yesterday revealed they were unsure if it was going to re-emerge.
Fears have now been raised that potential buyers are being put off purchasing the historic building, which was home to a Victorian market, due to out-of-town developments.
Elgin City South councillor John Divers, who is a director of the town's business improvement district, said: "I think other towns in Scotland have been worse hit but Elgin has not been immune.
"Out-of-town sites don't have to worry about parking charges, but in the town centre we're looking at increasing that cost for a lot of the sites. It doesn't make sense in the long-term, it puts developers off.
"Depending on what goes in there, I still think the building can have a great future. It's certainly in a prime location. I was very surprised when it closed."
Junners, which shut its doors for the last time about two years ago after more than a century of trading, had been listed by Wilsons with a guide price of £325,000.
Sellers believed the nearly 8,000 square-feet grade C-listed Victorian property could have been ideal as a gig venue or boutique hotel.
The building was initially due for sale on December 7, was rescheduled for December 19, and was withdrawn again on January 25.
A spokeswoman for Wilsons Auctions explained that nobody had been able to bid for the lot before it was taken off the list.
She said: "The property was withdrawn from the sale, that was the instruction that was given.
"At the moment, it is not known whether it is going to go up for sale again or not."