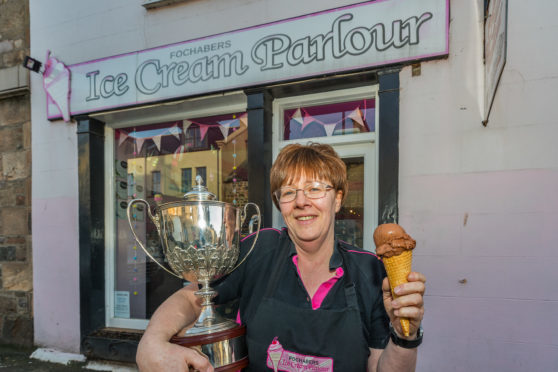 A Moray shop has scooped the title of having the best chocolate ice cream in the UK – for the third time.
Fochabers Ice Cream Parlour beat competition from across the country to claim the prize at this year's National Ice Cream Competition.
Despite only entering the business seven years ago, Sheila Gray's frozen treats have already churned up such a reputation that customers are willing to travel hundreds of miles for them.
"People have been coming from a distance to try it," she said.
"We get folk from Inverness, Aberdeen and Aviemore who'll come for a run on a Sunday.
"Last year we had people from Bristol calling, asking us to make a certain flavour for them."
Alongside her chocolate trophy, Miss Gray took home medals for her ice cream cakes and commendations for flavours ranging from the traditional raspberry ripple to more exotic takes including lime and elderflower.
She said: "It reassures you that people still want your products and you're doing the right thing."
But modest Miss Gray says her ice cream success is not solely down to her involvement.
"There's no secret, but I just try to buy the best ingredients I can," she added.
"I'm a farmer's daughter so I have to use as much local produce as I can.
"My staff are really important to me and they keep encouraging me to enter as they're really proud to work in a place with such recognition.
"It gives them a buzz and that makes me really happy as well."