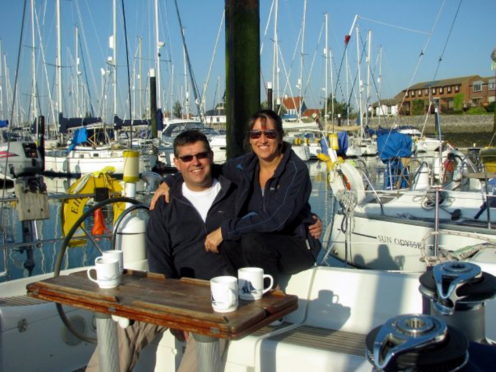 A walker who died while climbing one of Moray's most popular mountains was a popular outdoors-loving visitor with a 35-year military career.
Major Nigel Brown and his wife Belinda liked to tackle Ben Rinnes on regular trips from their home in Cambridgeshire to stay with good friends in Aberlour.
But on Wednesday, the 56-year-old collapsed with chest pains just short of the summit and could not be revived, despite the best efforts of fellow walkers and air ambulance medics.
Mrs Brown last night thanked those who rushed to help as "the best of humankind" and praised all the emergency service personnel who responded to the call.
And she revealed that her husband's ashes would be scattered on the famous Spanish pilgrimage route the couple had planned to revisit this June.
Major Brown was described as "a military man through and through" who joined the Territorial Army in 1983 and had served with distinction ever since.
A staff officer with 102 Logistics Brigade in Grantham, the "utterly dependable" soldier did two tours of duty in Northern Ireland and one in Afghanistan and more recently was involved in training anti-poaching patrols in Africa.
He was also a key figure in the University Officers' Training Corps.
He had recently accepted a senior role with the Cadets Association – which would have meant a return to the Hertford base where his career started.
Mrs Brown said she had been overwhelmed by the volume of tributes to her husband from friends and Army colleagues, which described him as "a gentleman, a good friend and a fine and dedicated officer – one of the good guys".
"Nigel always had the time to listen to other people," she said.
"He never judged people. He listened and gave advice and was a man of very true values."
The 57-year-old, who was driven home from the north-east on Friday by two of her three children, said she would never forget the response of the walkers who heard her cries for help.
"They were amazing from start to finish," she said.
"Everyone tried so hard. It was a mighty effort."
Among them was Peter Long, 58, from Aviemore, who was first on the scene and led efforts to resuscitate Mr Brown, just a day after taking a first aid course.
"As anyone would do, we ran to see what we could do to assist," he said.
"We are devastated that he didn't pull through."
A shared love of movie The Way inspired a plan to scatter Mr Brown's ashes at "the end of the world" – otherwise known as Muxia, in Galicia, north west Spain.
The film – directed by Emilio Estevez and starring his father Martin Sheen – is centred around the famous Camino de Santiago pilgrimage route.
"We both love the same things: being outdoors, camping, walking, sailing. All kids of different adventures," Mrs Brown said.
"We watched The Way four years ago and I said to him I'd really like to do it. We couldn't get enough time off to do the whole thing so we did it three years in a row and we finished last year. It taught us a lot about each other.
"Our plan was to walk to Muxia – which was known as The End of the World in the old days.
"We had already booked a flight to go back to Santiago in June and I think half my family is now going to be there walking with me.
"In The Way, the story is about a young man who dies and his father walks the Camino with his ashes and then spreads them at the end.
"That is what we're going to do."