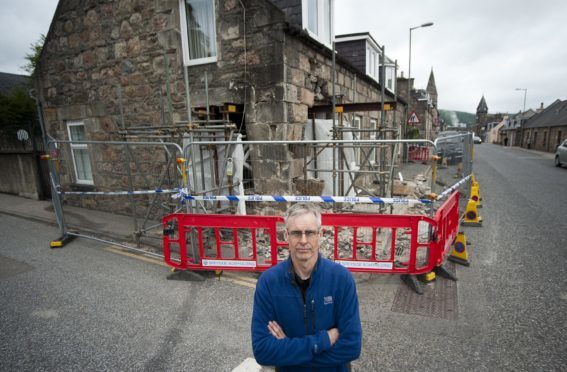 A Rothes couple forced out of their home after a Tesco lorry smashed into it will not be able to return for at least six months.
Bob and Isobel Murray have been living with their son and in hotels since the delivery truck crashed into their home on the town's High Street on May 13.
And now the couple, 79, have been told they won't get back into their home for at least six months.
Shock ordeal for Rothes pensioners as lorry smashes into home
But their son Philip believes it will be closer to a year before they return home, and last night accused Tesco of doing little to support his parents.
Mr Murray jun claimed the supermarket giant has only apologised through a phone call, and are yet to pay any costs for damages.
"Tesco have been incredibly unhelpful this whole time," he claimed. "As a multinational company you would think they would front up and help out after ruining my parents house but they have not helped much at all.
"If we had not phoned them up and asked for help, they would have swept it all under the rug. They are acting like the house crashed into the lorry and not the other way around.
"It is a bit ironic considering the company's motto is every little helps, they have been very little help so far.
"My parents are in the twilight years of their life and it is almost like Tesco has ruined it for them."
His parents were sleeping when the lorry crashed into their home at about 2.30am – prompting neighbours to race over to help them get out.
The lorry, which was heading north on the A941 Elgin to Dufftown road, hit two cars before coming to a stop in the side of the property.
A 48-year-old man has been charged in connection with the incident.
A Tesco spokesman said: "I know our team has been in regular contact with the couple concerned to make sure they are fully supported and accomodated but we cannot go into much detail at this stage."