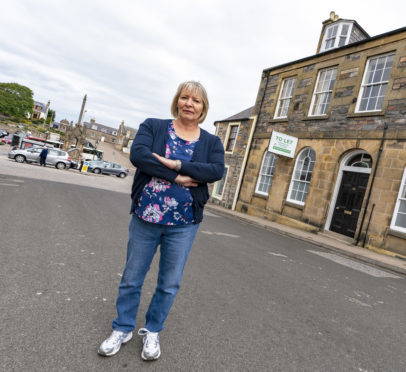 Business owners and politicians have called for a cash machine to be installed at one of Moray's most popular seaside villages.
Cullen has been without an ATM since November 2016 when the Bank of Scotland in the town closed down.
The village has been ranked on travel websites as one of the best places in Scotland to soak up the sun on the sand. But Keith and Cullen councillor Theresa Coull said that the lack of facilities was having a detrimental effect on tourism because holidaymakers struggled to get access to cash.
She said: "It is really important for local businesses and tourism to have an ATM in the village.
"Currently the only way to get money out is through going to the Co-operative and buying something and getting cashback.
"Some of the businesses around here do not have card payments and the card signal is not great here either so it is difficult for some shopkeepers to run their business."
Mrs Coull and SNP MSP for Banffshire and Buchan Coast Stewart Stevenson have written to both the Bank of Scotland and Link urging them to find a solution for the problem.
Ms Coull said: "Tourists that come here with no cash will be unable to enjoy Cullen and that is a problem," she said. "We've talked about this with the community council and are looking at all options for an ATM, whether it be a hole in a wall or even one inside a building."
Mr Stevenson echoed his colleague's concern about the lack of an ATM driving away tourists.
He said: "This is not only important for convenience but also to ensure that the small businesses in Cullen can thrive and flourish. Many of the businesses in Cullen rely on accepting cash and if tourists and locals cannot access cash easily then they will take their money elsewhere."
The Bank of Scotland in Cullen was one of 23 Scottish banks, including nearby branches in Fochabers and Portsoy, earmarked for closure in 2016 as part of a strategic review by the company.
A Bank of Scotland spokesperson said: "We can confirm that we have received a letter from Stewart Stevenson MSP regarding the provision of an ATM following the closure of the Bank of Scotland branch in Cullen in November 2016 and will respond in due course. Customers can access cash from the local post office and the mobile branch service."
A Bank of Scotland spokeswoman said: "We can confirm that we have received a letter from Stewart Stevenson MSP regarding the provision of an ATM following the closure of the Bank of Scotland branch in Cullen in November 2016 and will respond in due course. Customers can access cash from the local post office and the mobile branch service."