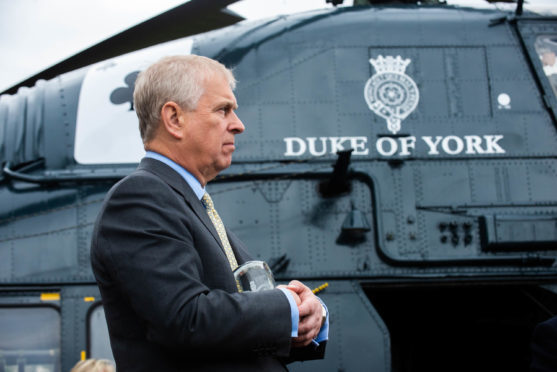 A voluntary group dedicated to preserving Moray's aviation heritage has been praised for its commitment to showcasing the work done by personnel stationed to the region.
The Duke of York visited Morayvia yesterday to present the attraction with the Queen's Award for Voluntary Service – the highest award possible for groups.
The Kinloss-based organisation was formed in 2011 with the mission of saving one of the Nimrod's that was due to be scrapped.
Now about a dozen aircraft sit on the forecourt outside the former school – including the iconic Sea King helicopter.
Yesterday, a Wessex helicopter, bedecked in Royal Navy colours, was christened Duke of York in honour of Prince Andrew's visit to the aviation centre.
And the former Navy man, who co-piloted Sea Kings during his military career, praised the commitment of the volunteers to showcasing the aircraft that have flown in the sky above Moray.
---
>> Keep up to date with the latest news with The P&J newsletter
---
Prince Andrew said: "The RAF has an enormous heritage at Kinloss. It's absolutely outstanding to have a place like this just over the fence from where the base was.
"The Nimrod will shortly be replaced by the P-8 Poseidon which means the maritime patrol activities that took place here will continue at RAF Lossiemouth.
"More importantly, the heritage work done here lets everyone know what the personnel do, particularly when it comes to search and rescue which has been so important to the community."
During his visit to Kinloss, Prince Andrew inspected the inside of the Wessex, which has been decorated with an ace of clubs emblem from 771 squadron before a longing look at the attraction's Sea King, which he flew during the Falklands War.
The Duke of York is now the second aircraft belonging to the group named after a member of the Royal Family, joining the Nimrod christened Duke of Edinburgh.
The Lord Lieutenant of Moray, Grenville Johnston, said: "Morayvia is one of the must-visit places in the area now. This award recognises the work done by the volunteers that has made it possible."
Mark Mair, chairman of Morayvia, said: "I showed the duke a picture of the Wessex when I was introduced to him at a garden party and asked if we could name it after him.
"He actually only flew them once but he was delighted. It's fantastic for the volunteers for him to visit to see it in person."