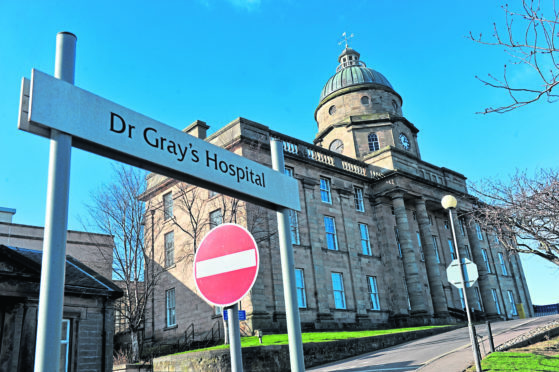 A mum has accused NHS Grampian of playing "Russian roulette" with her family.
Shiobhan Love lives in Kinloss, but was told that she would have to travel to Aberdeen Maternity Hospital to induced as she was nearly two weeks overdue.
The maternity unit at Dr Gray's Hospital in Elgin was recently downgraded, meaning all high and medium risk mums must travel to Aberdeen or Inverness.
But when Mrs Love phoned Aberdeen Maternity Hospital on Sunday as instructed, she claims she was told there was a "backlog of mums" waiting to be induced and advised to ring back on Monday.
When she called on Monday – at 11 days overdue – she says she was told there was still not enough room for her – and that staff would phone her with a time to come in.
In a furious post online, which was since shared by campaign group Keep Mum, Mrs Love said: "I explained on the phone I have a four-year-old that I need to sort childcare for and a husband that needs to know whether he is going into work or not, but none of this seems to change anything.
Progress has been made on maternity ward action plan according to NHS Scotland chief
"I completely understand that they are struggling, but what happens to me? This is supposed to be one of the best times in our lives, I am having a baby, but it's turning into a nightmare.
"I'm waiting at a phone, with everything on hold, praying that they phone me with a space that I still need to travel two hours to. How can this be acceptable in this day and age, and I can't even go to the local hospital 20 minutes away and have my baby?"
It is understood that Mrs Love has since been induced.
But Keep Mum said her case highlighted the need for NHS Grampian to get the unit at Dr Gray's running fully again.
The decision to downgrade to a midwife-led service was the result of a shortage of doctors. The health board is currently waiting for Scottish Government feedback on its revised action plan on how to reinstate the service.
A Keep Mum spokeswoman said: "This kind of experience keeps happening to women from Moray. It is completely unacceptable on any level. In fact, it is an infringement of human rights to be treated without sensitivity and dignity.
---
>> Keep up to date with the latest news with The P&J newsletter
---
"NHS Grampian has not yet demonstrated any way ahead/progress for women like Shiobhan and their families.
"Women and their families are entitled to enjoy the happy event of the birth of a baby. Instead, they are experiencing distress, stress and uncertainty, all of which are very bad for mental health, as well as physical health."
A spokeswoman for NHS Grampian apologised for the lack of communication between them and Mrs Love.
She said: "We apologise for any distress caused to Mrs Love. Senior members of NHS Grampian staff have been in touch with her directly to discuss her situation.
"We know postponing or delaying a woman's induction of labour may cause some anxiety. Unfortunately, inductions may happen early in the morning or late in the evening, according to the availability of staff and a bed.
Campaigners say 'years of inaction' from NHS Grampian has caused current crisis at Dr Gray's
"Given the increased activity at Aberdeen Maternity Hospital (AMH) and the unpredictability of that activity, we make the most appropriate decision based on the safety of our patients and staff. We are doing our utmost to communicate this effectively to women and we accept this was not done well for this patient.
"We do want to take this opportunity to pay tribute to the team at AMH who are continuing to provide excellent care to all their patients. The community midwifery teams in Moray are also doing a superb job in supporting expectant mums.​"
Last night, Moray MP Douglas Ross said the health board's lack of communication was "completely unacceptable".
He said: "The level of communication here was completely unacceptable and the whole system seems to be crumbling for Moray women as clearly Aberdeen is at capacity."