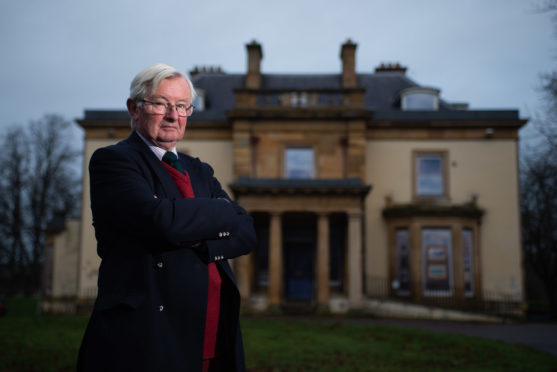 The future looks brighter for a historic landmark, as campaigners and Moray Council work together to breathe new life into it.
Grant Lodge is one of Elgin's most well-known attractions but has been disused since a fire started in its basement 15 years ago.
Campaign group the Grant Lodge Trust is currently working on a community asset transfer application to submit to the local authority so that they can lease the site from them and re-open it as a heritage centre.
As part of that, they are holding two public engagement events in Elgin so that locals can find out about their vision and the current state of the Cooper Park lodge.
Grant Lodge was included in plans for the "Cultural Quarter" under the Moray Growth Deal, with the council originally wanting to turn it into a whisky tourist attraction.
However, those proposals have been altered and now fall more in line with what the Grant Lodge Trust envisage.
---
>> Keep up to date with the latest news with The P&J newsletter
---
Stuart Huyton, a member of the group, hopes the community asset transfer bid can be submitted within the next two months.
He said: "There's been a change of direction with the Growth Deal as originally the council wanted to turn it into a whisky centre.
"It has now backtracked and came up with the same idea we have. to use it for exhibitions and social enterprise with the whisky centre now just a small part.
"The council now realise they can achieve this using our group and hopefully either through the growth deal, the trust or a combination of the two we can take it on and implement our ideas."
Lord Lieutenant of Moray, Grenville Johnston, is also member of the group, and believes the future is brighter for the lodge.
He said: "I would have to say the future looks bright.
"Everyone involved in this project has put in a lot of hard work and so far it looks promising.
"It's an iconic part of Cooper Park and it is a travesty that it is boarded up and not used, so the quicker it gets re-opened the better."
The Grant Lodge Trust will be showing old films featuring Grant Lodge at Moray Playhouse on Wednesday, between 10.3oam and 11.30am, to remind the public what is used to look like in its heyday.
They are then holding a public meeting on Wednesday January 16, from 5.30pm until 7.30pm, to present their vision for the future and to offer updates on the current condition of the site.