Second World War aircraft engine and Nazi stamps for sale in massive north-east military memorabilia auction
Stamps emblazoned with Adolf Hitler's image, an engine used in a Second World War aircraft and medals awarded during the Great War will go under the hammer at a north-east auction next week.
The antiques are among 500 pieces of military memorabilia amassed by a millionaire collector which will be sold at Cluny Auctions in Buckie on Saturday, April 6.
The "once in a lifetime" haul has already attracted interest from all corners of the world, with buyers from India, America, New Zealand and Japan pursuing certain lots.
The item expected to fetch the highest bids is a Bristol Hercules – a 14-cylinder two-row radial aircraft engine – which would have been fitted to a Bristol Beaufighter or Wellington Bomber during the Second World War.
It is the same engine found in fighters which took flight from the nearby Dallachy and Boyndie airbases throughout the conflict, and local RAF historians have visited the auction house to shed more light on it.
---
>> Keep up to date with the latest news with The P&J newsletter
---
Piles of letters from around the time of the hostilities, bearing stamps of various values each featuring the image of Adolf Hitler, and postcards also showing the Nazi leader, have been listed with an opening price of £35.
Several medals presented in the wake of World War I will be sold along with one which was awarded to a German officer in 1940, a German Iron Cross from 1914 and a US Bronze Star.
Pairs of Nazi jack boots and a flagpole with the swastika and Iron Cross carved into it also feature among the lots.
Husband and wife John and Barbara Ferguson have run Cluny Auctions for 30 years and say they have never seen such an impressive collection.
Mrs Ferguson said the memorabilia has come from the estate of Willem Sas, a Dutchman who spent time living in Moray.
She said: "He was a former pilot and stayed around the area. He was quite a wealthy man at one time, and used the money to amass this big collection.
"His son and daughter are the executors of his estate, and we have been privileged to get to sell it."
The auction will be broadcast online and more than 200 people have already registered to take part.
Mrs Ferguson added: "That is a phenomenal number, we have never had that many before.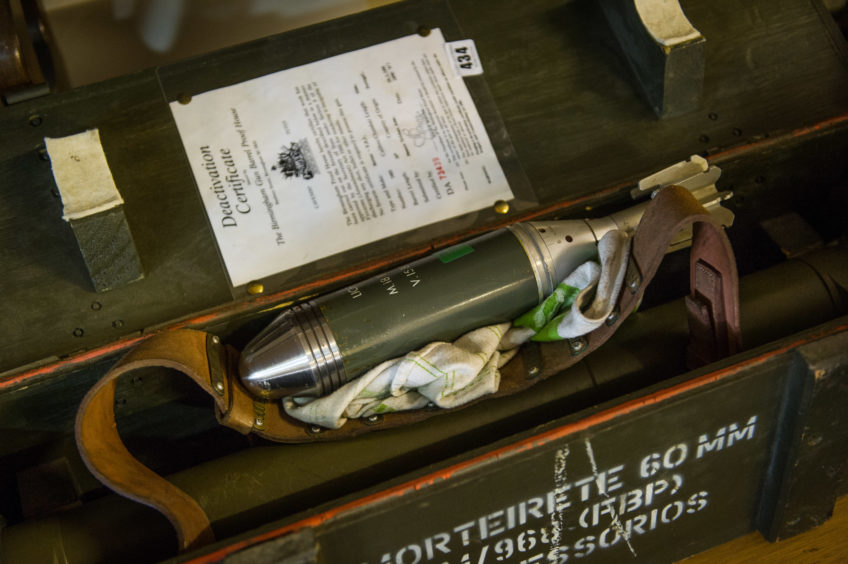 "People have registered from Spain, Germany, the USA, Australia, India and Japan among other places.
"We are never likely to see this level of interest again."
Other items which will go up for sale include a deactivated mortar gun, gas masks, a bayonet, military night vision binoculars and a German helmet from World War II.
Scores of pieces of radio equipment are expected to prove popular, along with dozens of military pocket watches.
While wartime heirlooms make up the bulk of the items going under the hammer, a stuffed and mounted lioness's head which once belonged to Mr Sas and a self-playing piano will also be up for grabs.