VIDEO: Former Chancellor of Exchequer Kenneth Clarke returns to Speyside distillery to open cask he laid 25 years ago
It's 25 year's since the UK's then Chancellor of the Exchequer laid a whisky cask in Moray with instructions it was not to be opened until the region elected a Conservative MP.
Yesterday, Kenneth Clarke returned to Glenfarclas Distillery on Speyside to open the barrel – a quarter of a century to the day since it was stowed away in the warehouse.
The MP, who now holds the Father of the House title given to the longest-serving member of the House of Commons, dodged questions about whether he doubted it would ever be opened due to the region's record of voting SNP from 1987 until the current incumbent's Douglas Ross' election in 2017.
Mr Clarke admitted he had long forgotten making the promise to open the barrel despite having fond thoughts about the drams contained therein.
But he revealed the distillery near Aberlour has held a special place in his heart since his visit on campaigning duties in 1994.
He said: "I used to have a glass of whisky as I gave my budget speeches, slightly as a prop to lighten up the presentation of an otherwise dull financial statement.
"But I recall that I so enjoyed my first visit here that I asked it to be Glenfarclas in the glass from then on."
The whisky, provisionally christened the Chancellor's Cask, will be bottled by Glenfarclas before going on sale with proceeds donated to a charity of his choice.
Yesterday, Mr Clarke reiterated his support for Prime Minister Theresa May's Brexit deal to help Scotch whisky maintain its "prestige" status worldwide – explaining that it was "no surprise" Scottish voters had voted against leaving the EU.
He added: "There are whole new markets opening up for whisky. The idea that we suddenly become an isolationist nation and cut ourselves off from this global trade and go back to the Dunkirk spirit of proudly going alone is not something we should do."
Glenfarclas chairman John Grant explained it was a rare occasion to invite someone back to the distillery to open the cask on the anniversary it was laid.
He said: "I did think about opening it at 21 years old but Mr Clarke was not an easy person to get here.
"Douglas Ross reminding him of the promise he made certainly helped."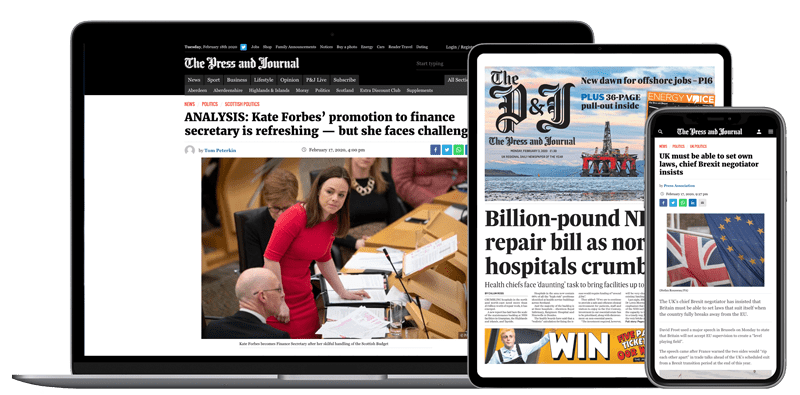 Help support quality local journalism … become a digital subscriber to The Press and Journal
For as little as £5.99 a month you can access all of our content, including Premium articles.
Subscribe