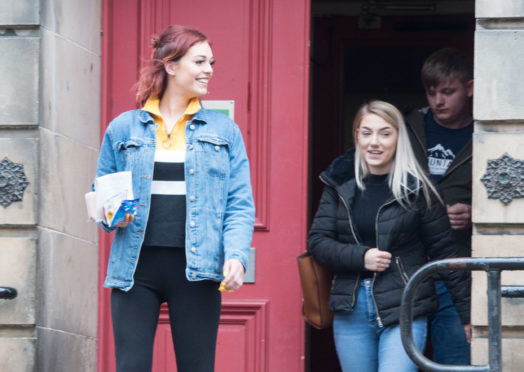 A Moray mother has blasted a sentence handed to the two women who assaulted her daughter – claiming it has made her feel like she has been "kicked aside like a worthless piece of rubbish".
Romara Duncan, from Forres, was attacked in the early hours of March 2 after attending an event at The Eagle bar in her hometown with friends.
The assault left the teenager, who celebrates her 19th birthday today, with a broken nose, a cut lip and fears that she may lose her teeth.
She was punched in the head and dragged to the ground.
In the aftermath, Miss Duncan fled Moray and has since moved to Glasgow, where she is currently working in a hotel, to stay with her sister.
Last week, Olivia Lesniewicz, 19, was fined £650 at Elgin Sheriff Court for carrying out the assault while her co-accused Christina Simpson, 20, was sentenced to 60 hours of unpaid work.
However, Miss Duncan's mother, June Duncan, has hit out at the sentences – believing they will do little to mend the mental scars of the last three months.
She said: "It's beyond belief that the people who commit these crimes are protected and the victims are not.
---
>> Keep up to date with the latest news with The P&J newsletter
---
"You wouldn't expect somebody to feel safer in a city like Glasgow than they do in Moray but there you go.
"One of the things she wanted was to get her day in court to see what the women got but she didn't even get that because she wasn't aware it was happening – I only found out from a friend who saw it in the paper.
"It feels like she has been kicked aside like a worthless piece of rubbish."
Both Lesniewicz, of Fleurs Crescent in Forres, and Simpson, of Woodhead in Dunphail, apologised in court for the assault through their solicitors, and said they had little recollection of it.
But Mrs Duncan criticised the duo for showing "no remorse" after offering no apology to her daughter directly.
She added: "Nobody ever gets to hear the other side of the story. When she came to the door after it happened with the police I almost passed out due to the amount of blood.
"She's had to have dental checks and x-rays. At one point she thought all her teeth might have to come out. I'm filling out forms to get compensation just now. It just doesn't feel right."