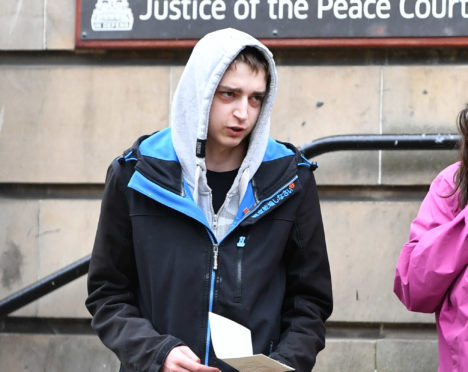 A dangerously out-of-control dog savaged a Lossiemouth A&E worker and left her fearing for her beloved pet's life.
Caroline Lloyd was walking her miniature schnauzer Zac on the coastal town's Boyd Anderson Drive in May when they were set-upon by a Staffordshire bull terrier.
Mrs Lloyd watched on in terror as her schnauzer was repeatedly bitten and shaken violently in a brutal attack.
When she rushed to save her pet by forcing open the terrier's mouth, she was bitten on the hand and sustained a severe laceration to her middle finger that needed invasive surgery to repair.
The dog's owner Aaron Baker, 21, appeared at Elgin Sheriff Court yesterday and admitted allowing the animal to be "dangerously out of control" on May 5 last year.
He admitted allowing it to repeatedly bite both Mrs Lloyd and her dog, leaving the A&E receptionist with a severe injury that forced her to be absent from work for three months.
Last night Mrs Lloyd said she feared Zac would not survive the attack and said she was angry that, more than a year on, she has still not received an apology from Baker.
She said: "I was scared for his life. We were lucky he only suffered whiplash in the attack.
"The tendon of my middle finger was lacerated and needed surgery.
"A wire was inserted and had to remain there for three months, during which time I was unable to work.
"He hasn't even apologised to me despite my finger being knackered and probably not working properly ever again."
Baker's solicitor, Matthew O'Neill, claimed his client had never before seen the dog act so aggressively when out in public.
---
>> Keep up to date with the latest news with The P&J newsletter
---
He said: "Mr Baker did not expect the dog to react in such a manner and did try to involve himself in separating the dogs.
"He himself received an injury that stopped him from intervening any further.
"The whole thing is a matter of great regret to him and he says his heightened emotions at the time meant that he acted in a foolish manner.
"It is an isolated incident for the dog, as there has been no further report about its behaviour within the last year."
Baker, of Faroes Court in Lossiemouth, was sentenced to 90 hours of unpaid work and put under supervision for six months.
The court was told the Staffordshire bull terrier was owned by one of his family members.
It avoided a destruction order, with its owners instead told it must wear a muzzle and be kept on a lead at all times when it is in a public place.