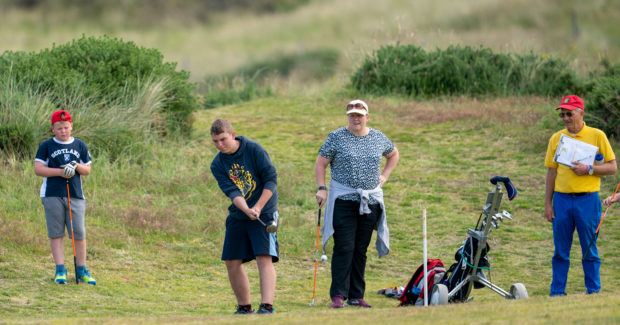 Army personnel have organised a week of events in Moray to help youngsters from forces families to overcome social barriers.
Children of troops at Kinloss Barracks regularly face challenges because their parents change posting or are deployed overseas for long periods.
For the last week, staff from the base have run sessions with youngsters to help them build bridges with those in a similar situation to themselves.
Activities have included forestry work with axes in woods near Elgin and cooking lessons. Yesterday the group took to the golf course at Covesea near Lossiemouth as part of a competition.
Sarah Magee, a community support officer in the Army Welfare Service, said: "Quite often, they've got challenges moving from school to school or even from country to country.
"The Army can be quite insular, which makes it hard for the children to settle, but also means they're often not aware of the opportunities that are on their doorstep.
"We've chosen to work with this group of boys because we've noticed they've been having difficulties in the last few months.
"This is the first time that we have done it with boys only because we have noticed that, if we do it with girls, they tend to take the lead role and the boys step back and let them manage it."
Different programmes have been arranged with various groups throughout the summer to stimulate their various interests.
The youngsters have also put into practice the skills they have learned by organising an event to welcome home their parents from a lengthy mission abroad.
Scott Marshall, 13, whose dad is not due back from a five-month deployment overseas until next month, believes the week of activities has distracted him from his father being away.
He said: "It's really hard when he is away. It's frustrating because, when I speak about it with other people, their dads are always there.
"This week has been good because it has made me forget that he is gone for the moment and has taken my mind off it."
Franz Rolinck, director of Living Golf, who organised yesterday's course competition, said: "The main benefits of golf is that it helps the children to use a part of their brain that will still be developing until they're 25.
"Here, they have a wonderful opportunity to do that without even knowing they are."