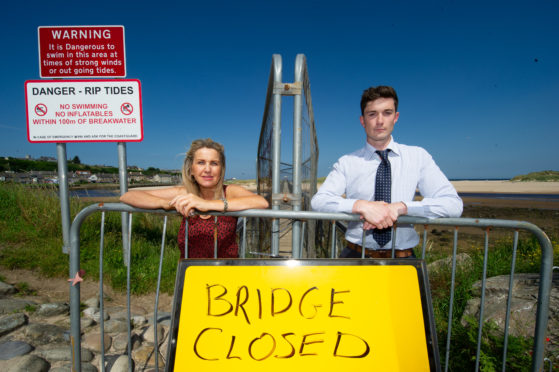 Campaigners fighting to repair or replace Lossiemouth's East Beach bridge have warned that donations alone will not fund the project.
Countless people dropped coins in a donation box yesterday – installed next to the crossing several months ago to help fund efforts for a new structure to link the town with the sand.
Meanwhile, Lossiemouth Community Development Trust's online campaign is now closing in on £10,000, following a surge in donations that added several hundred pounds to the total in the last two days.
However, estimates gathered by the group for three options to either repair or replace the structure have valued the work at between £500,000 and £700,000.
Huw Williams, the trust's development officer, said: "The crowdfunding has been fantastic over the last 24 hours.
"It's nice to know how much support we have.
"But crowdfunding alone will not replace the bridge. We're going to need support from somewhere.
"In the first instance, we want to try and get a temporary fix sorted.
"I have had some discussions with the council about it but until we see the structural report they have done we don't know if that will be viable or not.
"Lossiemouth is heavily dependent on its tourism. It gets a huge influx during the summer months to visit the beach, which is one of the best in Scotland.
"This is going to have a huge impact until the bridge is open again."
Options drawn up by the trust include repairing the existing bridge, funding a new crossing in the current location or building at a new site from the Esplanade, downriver from the current location.
Carolle Ralph, vice-chairwoman of the town's community council, has been warning of the dangers of the bridge's condition for the last 10 years but admitted this week's development has still come as a "shock".
She said: "We've seen it coming. We had a campaign years ago to put pressure on the council because they used to paint it and repair it but then that all stopped.
"It's devastating for everyone in the town. Money is going to have to come from somewhere – whether it's the Scottish Government, Westminster, the Ministry of Defence or wherever.
"It can't be left like this though with people wading across the river because there have been fatalities in the same location in the past with people drowning."