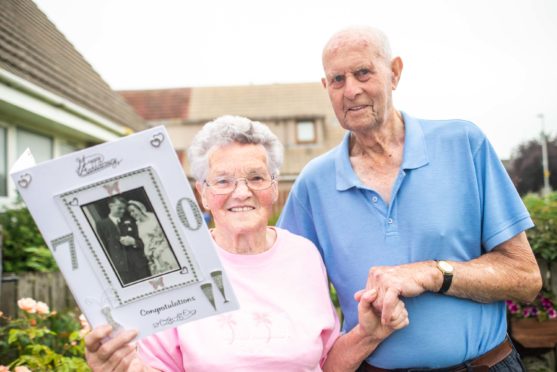 Childhood sweethearts from Moray who spent their working life running a farm together have celebrated their 70th wedding anniversary.
Bert Brander first set eyes on his future wife Dora when she visited his landlady, who was friends with her mother, during the final stages of the Second World War.
The teenagers immediately struck up a friendship and were married in Portgordon about five years later in July 1949.
Mr Brander, 92, had to borrow ration coupons from friends and family in order to save up enough credit to be able to wear a suit for his wedding day while his bride borrowed a dress from a friend for the big day as the nation recovered from the conflict.
However, the ceremony almost nearly did not happen as the taxi driver forgot to collect the minister – forcing Mrs Brander's car to tour the countryside until he arrived.
Yesterday the couple shared jokes and stories in their home, which has their wedding certificate framed on the wall, as they looked back on their life together and their retirement to Mosstodloch in 1992, which they described as a "second honeymoon" that has lasted 27 years.
Mrs Brander, 88, joked: "It's been all right. We've had our ups and downs like everyone else. We share absolutely everything, that's been the most important thing.
Mr Brander laughed: "Doing what you're told, that's been the most important thing. It's been really lovely. We're lucky we're both still very health and have good neighbours."
Together the couple ran a farm in Auchenreath, near Spey Bay, for about 50 years after Mr Brander was offered a house to take on the fields there, which prompted the question to ask his future wife to move in with him and to get engaged.
However, life was tough in the country as they brought up three children Sheila, Lois and Gordon, who were born between 1950 and 1957 – they only managed to take their first holiday together in Conon Bridge near Dingwall on their 25th anniversary.
Mrs Brander said: "It was hard on the farm. We couldn't afford a car until Bert was 50 so it was difficult to get about, the farm always came first too.
"Moving to Mosstodloch has been the best thing for us. Bert found it difficult at first but having people around us has been really lovely."
Today Mr Brander, who still holds a valid driving licence, continues to use his farming skills by cultivating a vast amount of crops in his back garden including potatoes, raspberries, rhubarb, peas, strawberries and gooseberries.