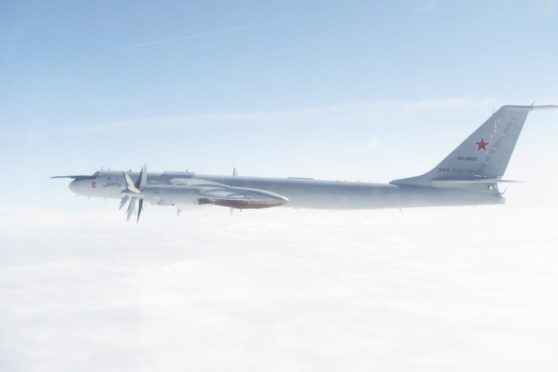 RAF Lossiemouth Typhoons were scrambled yesterday to intercept Russian aircraft monitoring British watercraft.
Two Tupolev Tu-142 Bear maritime patrol units were spotted on radar approaching the United Kingdom through international airspace off the north coast.
The long-range Russian aircraft, used to monitor shipping and submarines, were escorted away after being intercepted by a RAF Quick Reaction Alert force involving RAF Lossiemouth Typhoons and a Voyager tanker from RAF Brize Norton.
It's the third interception mission the Moray based aircraft has been involved in over the last four days. Their aircraft was called into a similar situation escorting Russian aircraft from UK and Estonian airspace last Friday.
VIDEO: Watch Lossiemouth fighter jets intercepting Russian TU-142 'Bear' Bomber during NATO patrols
The Ministry of Defence have praised the work of the pilots, Defence Secretary Ben Wallace said: "Every day certain states are determined to push international norms and to test the UK's resolve. The threats to the international rules-based system are on many fronts.
"The RAF is well equipped to stand sentry alongside our allies on the UK's and Europe's borders. I am grateful they are there 24/7 to uphold the UK's commitment to our security."