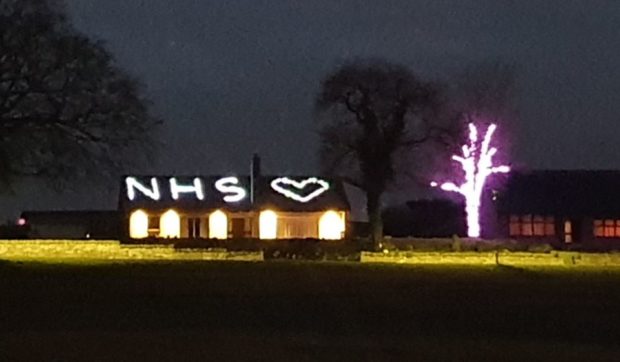 A Moray retail worker has created a moving tribute to NHS staff alongside one of the north-east's major roads.
Callum Stuart's spectacular Christmas lights show has become a festive fixture on the eastern approach into Keith on the A96 Aberdeen to Inverness route.
The displays, which take over his home and garden, have raised thousands of pounds for local causes as well as becoming an attraction for families.
Now the 21-year-old has used the lights to create a tribute to NHS staff working to fight the coronavirus outbreak.
Mr Stuart said that, within minutes of creating the display, health workers were already stopping to see for themselves.
He said: "I was at the bottom of the field when I first switched them on to check they were working fine, and straight away an ambulance drove up to have a look.
"The NHS is doing such an amazing job at the moment under huge pressure and they don't always get the credit they deserve.
"I just wanted to show my appreciation. Hopefully it will make other people think the same too."