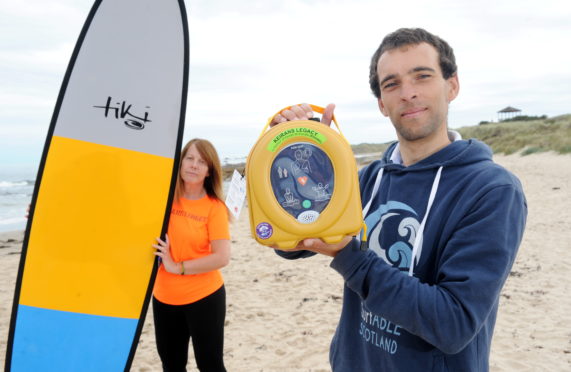 A Moray charity that offers disabled people the chance to take to the waves is "delighted" after receiving a life-saving device.
Friendly Access, which runs project Surfable Scotland primarily based at Lossiemouth and Sandend, was presented with a portal defibrillator from charity Kieran's Legacy which aims to save lives through education and defibrillators.
Instructor Kev Anderson believes the device will be "crucial" in protecting the public and athletes at the beaches where sessions take place as Moray faces no lifeguard covering.
After piloting the first autism-specific surf in Scotland in 2015, the project was launched to create an inclusive school providing a surf therapy programme for all including low mobility and wheelchair users.
Since then, the project has gone from strength to strength continuing to give users a sense of freedom while gracing the waves.
Mr Anderson said:  "The aim is that we never have to use this defibrillator but we are delivering adventure and water sports so it is all about giving myself and the other coaches the confidence while taking sessions.
"We have trained so much in first aid so it means we have the equipment and training to prevent anything bad happening.
"Also it will help in any rescues that are required which is crucial as we are delivering our sessions on beaches with no lifeguard covering in this area of Scotland and the sports are getting more and more popular.
"Every time we do a session on these beaches we are really aware if anything was going to go wrong – we could be there with our training and help any way we could.
"Knowing we can keep any athletes and the public safe is the main thing and the need to prevent another tragedy."
He added: "It has been amazing to get at least a few sessions before the water starts getting colder and the season comes to an end near November."
Sandra McKandie of charity Kieran's Legacy, which was formed to remember her son who died in a road accident while out biking, feels it is "important" to continue to help groups get defibrillators to honour his memory.
Mrs McKandie added: "It is really important as it allows Kieran to continue to make a difference and keep the charity out in the public eye as there has been no fundraising due to the pandemic.
"We want to keep on growing awareness about our mission.
"We are always trying to engage with organisations in order to continue our mission to deploy more defibrillators and improve education about saving lives.
"It fits in perfectly with their recreation sports and it is all well equipped to saving lives.
"Also the device is being transported in their van to every beach they go to for their sessions so that is so great to hear."
The charity continues to urge people in communities without a defibrillator who have been actively trying to raise funds for one to contact them on keiranslegacy@outlook.com or call 07776373747 for support.