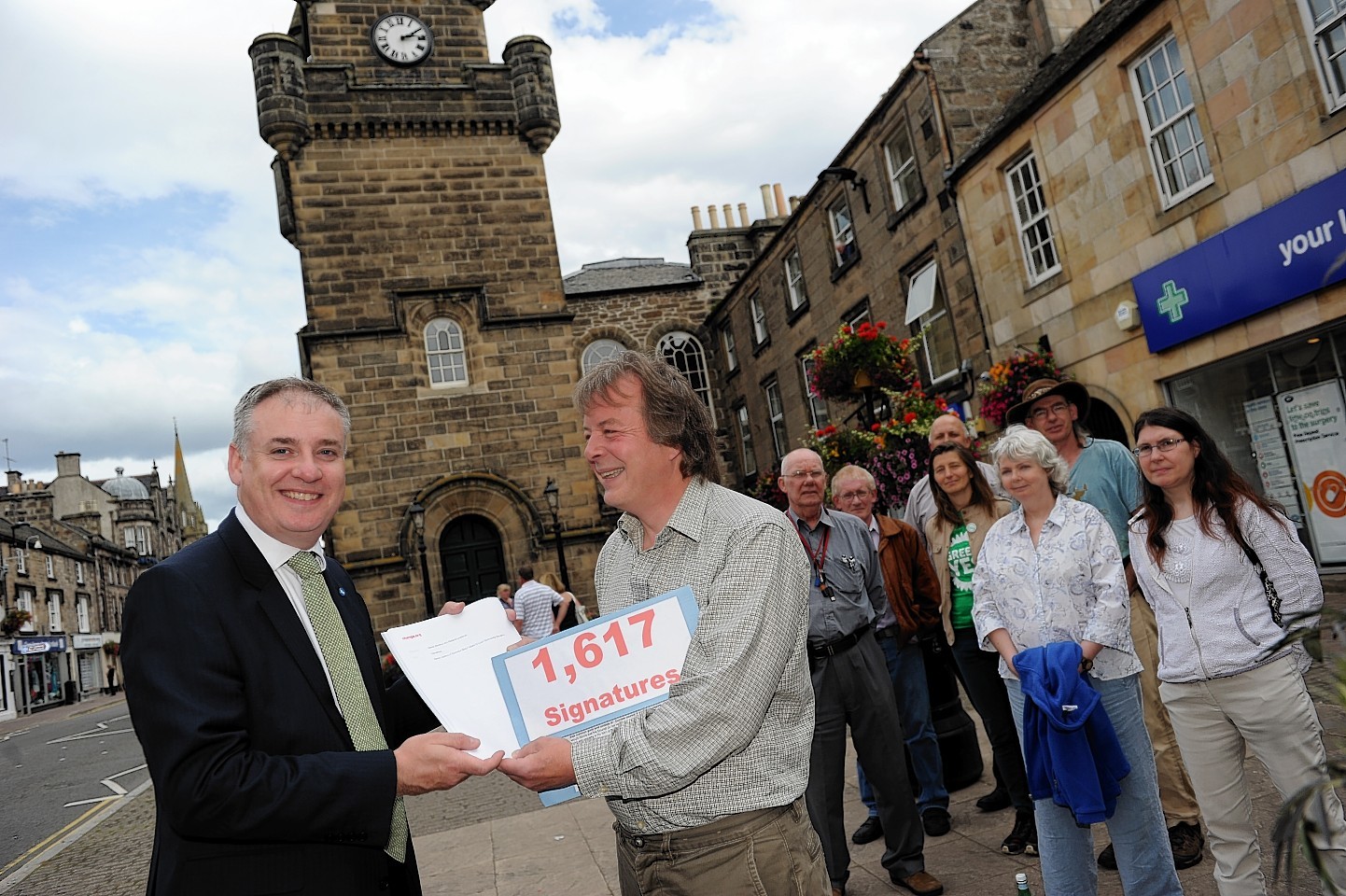 Forres residents showed their opposition yesterday to plans to build a shopping centre in their town.
A petition signed by more than 1,600 people was handed over to the region's MSP Richard Lochhead to pass on to the Scottish Government.
The petition calls for a change in the law so that all common good land across Scotland is returned to the control of local communities.
The backdrop to the call is the ongoing controversy over proposals to turn common good land in the Bogton Park area of Forres into a retail park.
Last year Moray Council granted outline planning permission to development firm Redco Milne for the project.
This was despite a ballot in 2011, when 70% of townsfolk voted against selling the land to the firm.
Speaking after the petition was handed over, Stewart Noble, who recently became chairman of the town's community council, said: "Forres people are angry and frustrated that they are being disregarded.
"But there are people from all over Scotland who have joined this debate because the mismanagement of common good assets is widespread in many local authorities.
"We hear often from The Scottish Government that Scottish interests are best decided upon by the people who live and work here.
"The same argument is surely true over local issues.
"It is the townspeople who will have to live with the consequences of bad decisions made by others elsewhere."
The petition calls for community councils to be made the guardians of common good funds, adding that local people should have full access to the accounts at all times.
Mr Lochhead said: "The issue of what happens at Bogton has been rumbling on for several years now.
"The sooner the question can be sorted out the better for the town.
"I certainly believe that local people are well placed to decide local issues.
"The Community Empowerment Bill currently going through the Scottish Parliament is seeking to address this, and this petition will certainly feed into that."
Aberdeen-based Redco Milne is prepared to give £6.5million to Moray Council for a 35-year lease on the site.
Last month the local authority appointed Culverwell Property Consultants to investigate merits of the deal.