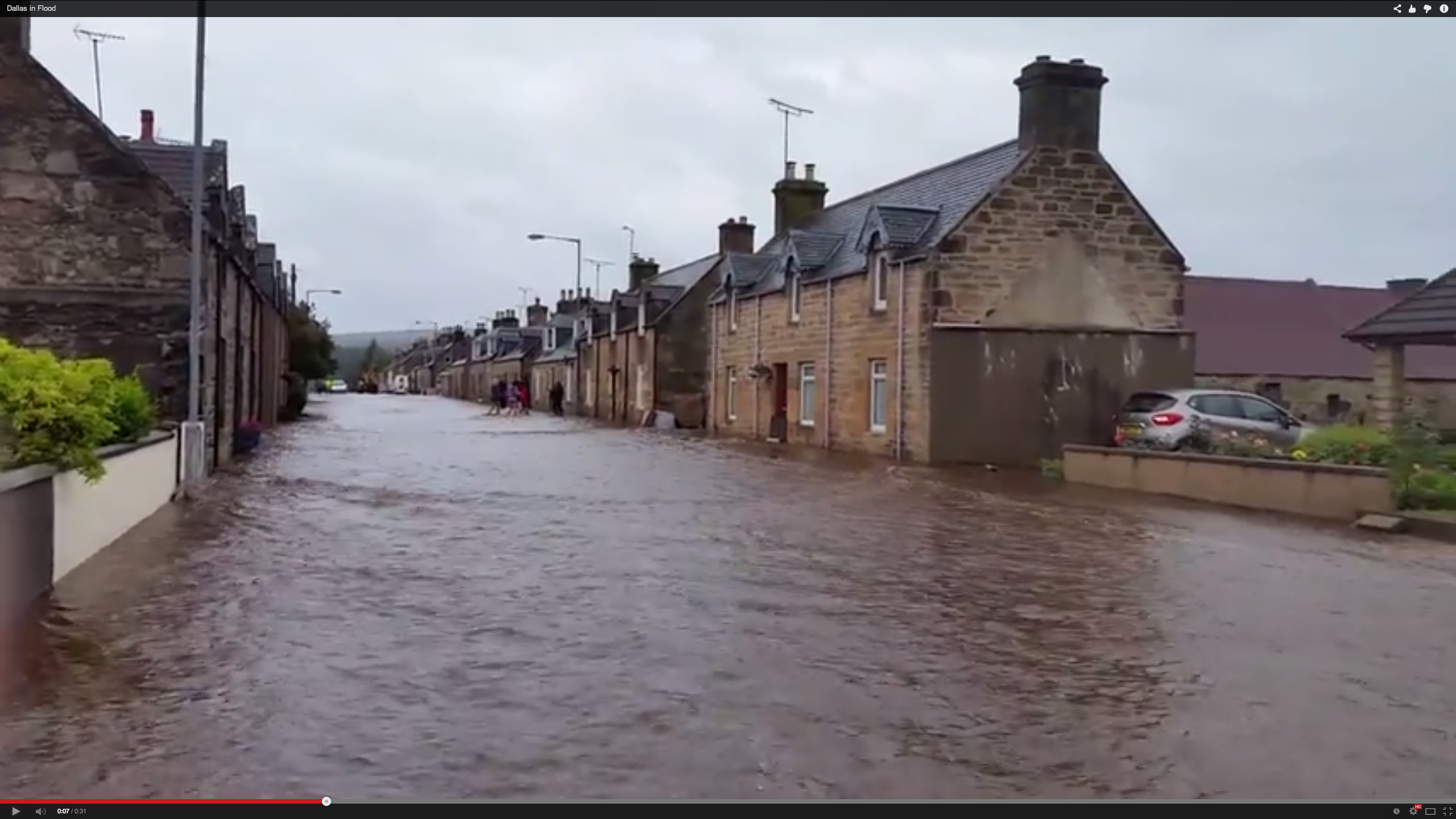 Red Cross bosses have praised volunteers who came to the rescue of more than 100 residents as Moray was hit with 60 days of rain in just 24 hours.
Official Met Office figures show the region was drenched in 5ins of rain earlier this week- twice the normal amount for the whole of August.
Most people who had to be evacuated during the worst of the flooding have now been allowed to return to their homes.
However, dozens of properties were damaged across the region – particularly in the village of Dallas which was hit after a section of the River Lossie breached its banks.
Finance Secretary John Swinney said the Scottish Government would consider emergency financial assistance for Moray through the Bellwin scheme, which is designed to reimburse local authorities following disasters or emergencies.
Nigel Stafford, emergency response manager for the Red Cross in Northern Scotland, paid tribute to the charity's local teams who worked tirelessly to help families who were forced to flee their homes on Monday.
He said: "Being evacuated from your home is a big upheaval for anyone but for some people it can be particularly traumatic.
"For that reason we deployed volunteers specially trained in providing emotional support to people in that situation."
Red Cross volunteers were stationed at Elgin High School, which was turned into an emergency rest centre.
From there they gave out blankets and were on hand to provide emotional support to the evacuees as they arranged alternative accommodation.
They also provided first aid to a handful of people at the centre.
The charity also had a team of volunteers on standby in Forres, although their services were not required.
Despite £170million of floodworks in the region not being due for completion until spring, both Forres and Elgin were spared a repeat of the damage they have suffered in the past – most recently in 2009.
Last night SEPA, the Scottish Environmental Protection Agency, has now lifted all 18 of the flood alerts and warnings that had been in place across the region.
Speaking yesterday, Environment and Climate Change Minister, Paul Wheelhouse said: "The recent severe rainfall has caused some of the worst flooding in years.
"People should be aware that because of the amount of rain we have had, river levels will remain high, even though, in the immediate period, we do not anticipate we will see more heavy rain.
"I'd like to pay tribute to all those involved in supporting communities affected.
"The councils, local fire and rescue services, other emergency services, utility companies and volunteers in local communities reacted very swiftly to minimise the impact of rising water levels.
"Having visited flood-hit areas in the past, I've seen the devastation it can cause and my thoughts are with all those whose homes or livelihoods have been affected."