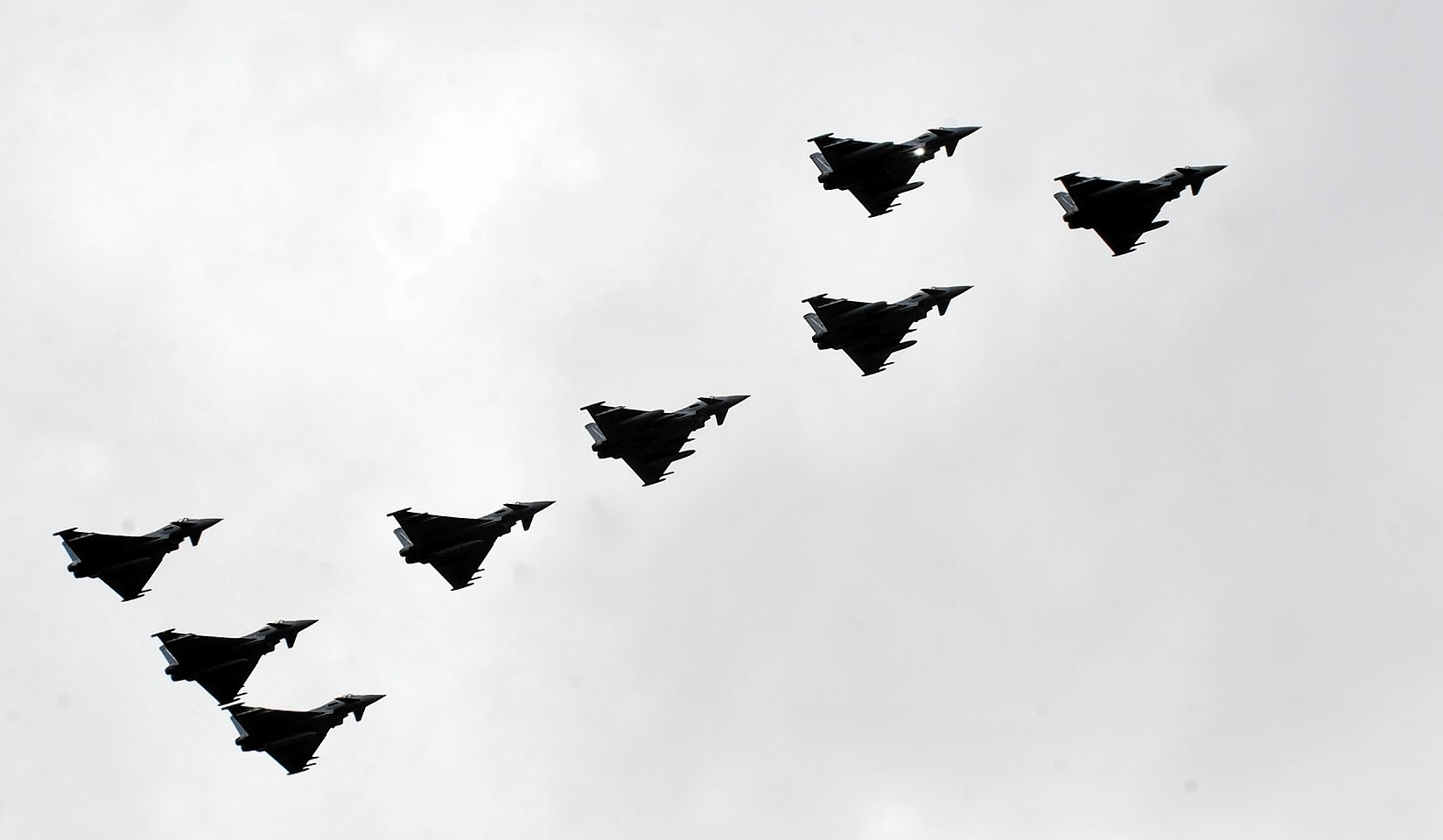 Decades of aviation history drew to a close yesterday as the final fast-jets departed from a Fife airbase – to signal the start of a new era at RAF Lossiemouth.
Number 1 (Fighter) Squadron arrived in Moray in style yesterday to join colleagues from 6 Squadron who have been there since June.
And in March next year, a third, as-yet-unnamed Typhoons unit will be established at Lossiemouth to complete a remarkable turnaround in the base's fortunes.
It had been facing the axe under UK Government plans to slash defence spending.
It was saved from closure in 2011 when it was announced the new generation of Typhoon fast-jets would replace its ageing Tornados.
A total of £17million was spent last year upgrading RAF Lossiemouth to ready it to become the front line of the UK's air defences.
Coalition ministers revealed that the money was invested before the arrival of 6 Squadron from Leuchars in the summer.
A further £70million has been set aside by the Ministry of Defence (MoD) for the overall revamp of the base.
Leuchars will be transformed into an Army barracks, in the same way the former RAF Kinloss site in Moray has been given a new role.
Air Officer Scotland and station commander at RAF Leuchars, Air Commodore Gerry Mayhew, said: "As the Typhoon aircraft and personnel of 1 (Fighter) Squadron relocate to RAF Lossiemouth, it is fitting for us to pause and celebrate over 100 years of outstanding military aviation history at RAF Leuchars.
"From its humble beginnings as a balloon station, Leuchars grew throughout the Second World War and beyond to become one of the United Kingdom's foremost air defence stations.
"Its exemplary record as the home of northern quick reaction alert stands as a testament to the professionalism and dedication of our people."
The quick reaction alert is designed to intercept threats to UK airspace – and is now RAF Lossiemouth's responsibility.
Officer Commanding 1 (Fighter) Squadron, Wing Commander Mark Flewin, said: "The relocation of an entire fast-jet squadron is a phenomenal achievement and it is testament to the commitment, flexibility and capability of all personnel involved that it was carried out so successfully.
"1 (Fighter) Squadron is delighted to have arrived at RAF Lossiemouth and now looks forward to continuing its quick reaction alert duties alongside 6 Squadron."
1 Squadron has been involved in almost every British military operation since World War I.