 Moray Art Centre opens a new contemporary art exhibition today featuring the Mullardoch and Glen Cannich area of the Highlands.
Artist Tristram Woolston has used his base in Cannich to drawn inspiration from the surroundings of Glen Cannich and Loch Mullardoch for the last 20 years.
Mr Woolston said the variety of work he brings to Moray will focus on the fine details of water-courses, trees, boulders, lichen, vegetation, roots, sky, rain and wind, as he explores colours and textures.
"I try to record the passing sequence of sights, sounds and sensations as it spools before me, conscious always that this is a mere snippet of time," he said.
"And I feel this most keenly in the mountain areas where man's hand in the vista has been slight.
"Where the shapes, colours and textures have been chosen by nature alone and where the changes happen in line with the climate and seasonal ebb and flow."
The Bath Academy of Art graduate always works on location, no matter what the weather, in a variety of media – from watercolour, oils, inks, chalks, acrylic and charcoal to anything else that comes to hand.
He added: "It's seldom comfortable. Long hikes. Thermals muffled against the icy rock and biting wind in the winter. Net hoods, tight cuffs and gloves to keep out the midges and ticks in summer.
"And the patience to stay in one place for long enough to understand what I am seeing despite the cold, rain and even sun.
"When I'm done, so is the image. I don't change anything once I have moved away. What was real stays real. And the next time, the next location, the next work starts out as a clean sheet and, I hope, a fresh eye."
The exhibition in Fochabers will run until September 21. The art centre is open from 10am-4pm during the week and from 12pm-5pm on Saturdays and Sundays. The centre is closed on Mondays.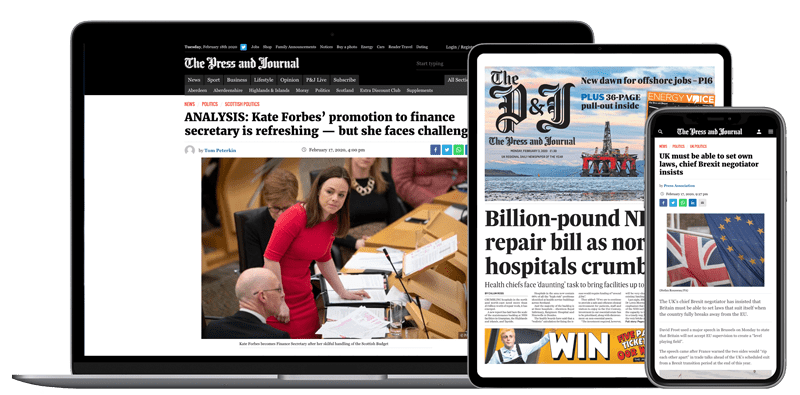 Help support quality local journalism … become a digital subscriber to The Press and Journal
For as little as £5.99 a month you can access all of our content, including Premium articles.
Subscribe