A landmark crossing over the Spey was royally commended as part of its bicentenary celebrations over the weekend.
The Friends of Craigellachie Bridge group organised a range of events in conjunction with Craigellachie Village Council to mark the 200th anniversary.
About 1,500 people attended the events over the two days, which included a talk on the bridge's history, a dedicated church service, a ceilidh and a fireworks display which attracted more than 1,000 people.
Lord Lieutenant of Banffshire Clare Russell officially introduced Saturday's bridge lecture and read out a letter of congratulations from the Queen.
The monarch thanked the Friends of Craigellachie Bridge for bringing the structure's birthday to her attention and sent her best wishes to all for a "most memorable and enjoyable day".
Heriot-Watt University civil engineer Professor Roland Paxton was scheduled to give the talk on the bridge's history and the career of the bridge's designer, Thomas Telford, but he was unable to attend due to ill health.
Neil Fotheringham, senior bridge engineer at Moray Council, stepped in for the event at Craigellachie Village Hall on Saturday afternoon.
Campbell Croy, of Friends of Craigellachie Bridge, said: "The whole weekend was fantastic. It was indescribable. We really appreciated Mark stepping in after poor Professor Paxton took ill.
"The ceilidh sold out, and we had so many people for the fireworks that we had to delay for 20 minutes, and the police had to call extra units in just to handle the traffic.
"The whole village came out to support us. The fireworks were incredible and, overall, it was a great way to finish on a high note. We are already planning for next year."
A recent survey of the bridge revealed that while it was wearing well, substantial funding will be required to fix years of wear and tear.
This was part of the reason for the formation of the Friends of Craigellachie Bridge under the patronage of Mrs Russell – who will help the group in applying for grants and fundraising.
The bridge cost £8,000 to build in 1812 – £4,000 of which had to come from private funds which was then matched with government money.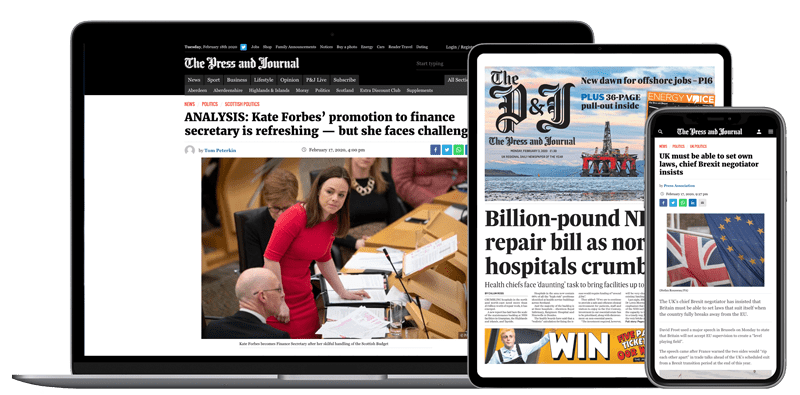 Help support quality local journalism … become a digital subscriber to The Press and Journal
For as little as £5.99 a month you can access all of our content, including Premium articles.
Subscribe