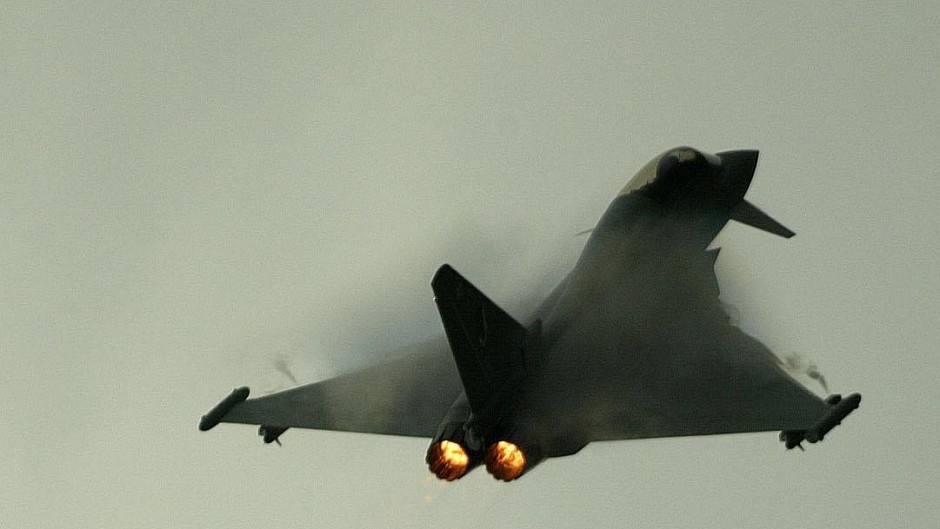 Fears that a Moray-based Typhoon fighter jet could crash into a passenger plane were raised with the head of the RAF seven months ago, it has emerged.
Regulators warned last week of the risk of such a "catastrophic" collision as they questioned the failure to fit anti-crash systems to Tornado and Typhoon jets.
RAF Lossiemouth is home to both aircraft and investigators recently reported an incident in which Typhoon pilots had to take evasive action to avoid a civilian plane flying just 15 miles from the base.
The Military Aviation Authority (MAA) report made it clear last week that Defence Secretary Michael Fallon and the Chief of the Air Staff, Sir Andrew Pulford, must have been informed of the danger.
Moray MP Angus Robertson has since tabled a series of questions in Westminster on the issue.
In response, Defence Minister Mark Francois revealed that the risk of a Typhoon crashing into a civilian plane was raised to Sir Andrew's level in June, and the Air Chief Marshal in turn briefed Mr Fallon in October.
The risk was elevated in June, the same month last year that a damning MAA report into the deaths of three RAF Lossiemouth aircrew in a 2012 Tornado GR4 collision over the Moray Firth found that the failure to fit a crash warning system was one of the contributory factors.
Mr Robertson also asked ministers for an update on plans to install the technology in the Typhoon jets.
Mr Francois said: "The procurement of a collision warning system for UK Typhoon is on-going with a number of options being assessed using the extant MoD procurement process."
Last night, Mr Robertson, SNP defence spokesman, said: "Further questioning in light of Military Aviation Authority's annual report has revealed yet more concerns about aircraft safety.
"The contents of the report were extremely alarming in particular the mid-air collision risks involving Typhoon jets.
"The elevation of the ownership of the risk of a mid-air collision involving a Typhoon jet to the Chief of the Air Staff is very significant.
"It has been bumped up the chain of command – and the next stop is the secretary of state.
"It is very concerning that it took over three months for the secretary of state to be briefed of this change as well – which curiously happened just before the publication of the investigation into the tragic Tornado collision."