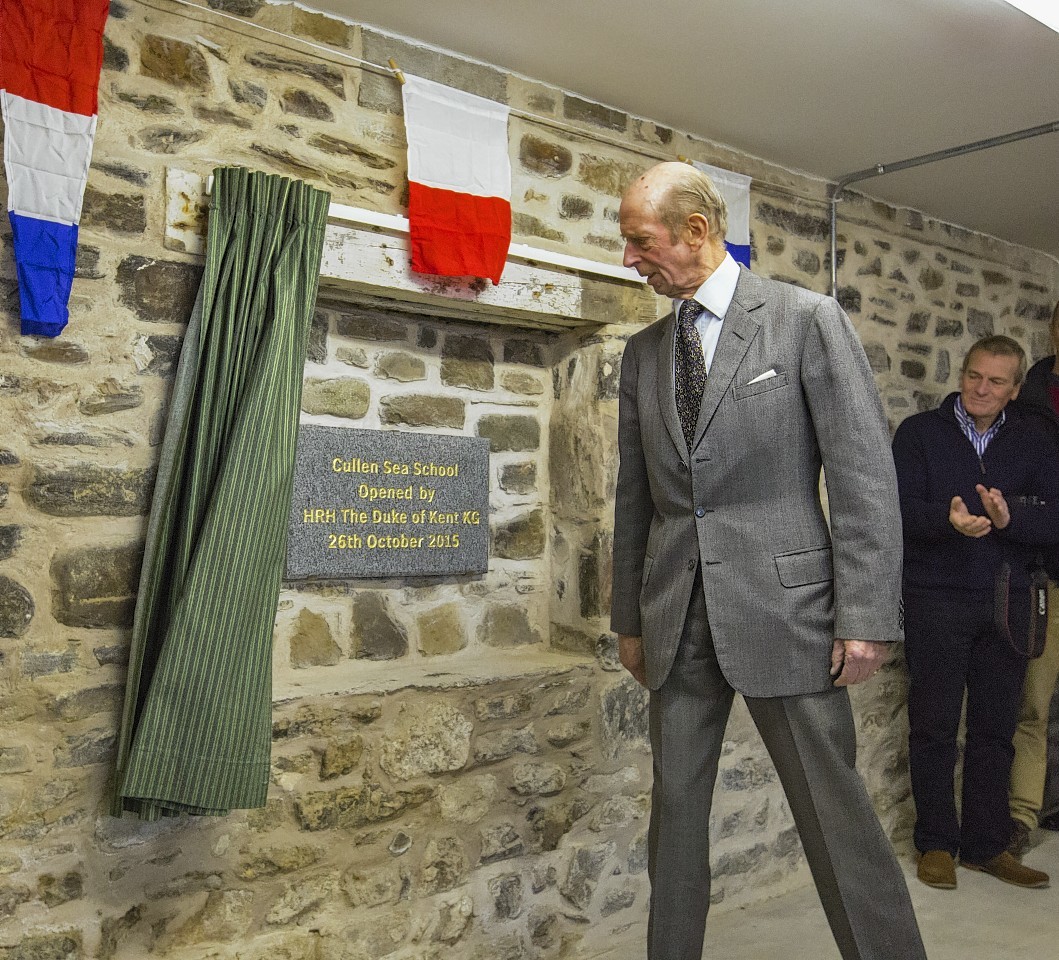 The Duke of Kent was greeted by dozens of flag-waving youngsters as he arrived in Moray yesterday to launch a new "top class" water sports centre.
The Queen's cousin, Prince Edward, was guest of honour at the opening of the £500,000 Cullen Sea School, where he was welcomed by cheering local primary school children.
The ceremony marked the culmination of three years of hard work by the Three Harbours Association, which represents ports at Cullen, Portknockie and Findochty.
The group has transformed an abandoned row of boat stores along the waterfront at Cullen into the modern venue.
Instructors there will provide lessons in canoeing, coastal rowing and kayaking, and there will also be classes where people will learn how to build their own boats.
Prior to unveiling a plaque declaring the Sea School open, the Duke commended the individuals whose tireless efforts made the scheme a reality.
He said: "I'd like to congratulate everybody who has worked so hard to make this project come to fruition, and I wish it the greatest success."
Pupils from Cullen Primary School had made colourful union flags specially for the occasion, which they fluttered proudly as the Duke said hello to them.
Headmistress Moyra Hendry said: "The Duke said he thought it was a great idea to make the flags, and asked the children what they enjoyed most at school.
"All the children were very excited, they really enjoyed the day."
Chairman of the Three Harbours Association, Ashley Mowat, guided the Duke and Lord Lieutenant of Banffshire, Clare Russell, on a tour of the building.
Mr Mowat said the opening ceremony marked a "really splendid start for the sea school".
Organisers say the school's first undertaking will be making its own skiff, and they are working with Buckie High School to develop an SQA accredited boat-building course.
Organiser Michelle Slater said: "Taking on a project like small boat building really helps bring folk together, as they can meet up and go for a row."
Moray Council convener, Allan Wright, also praised the Three Harbours Association's efforts in converting the previously dilapidated boat sheds into the pioneering venue.
Mr Wright said: "Everything at the Sea School is top class, and I'm delighted that the council has been able to help in seeing it come to pass.
"This will help preserve and renew a set of traditional skills in a coastal area where they first evolved."