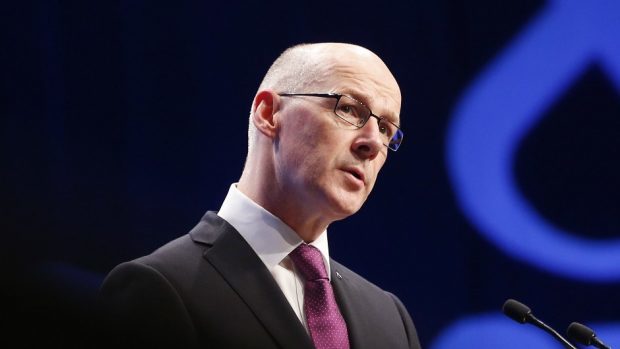 Moray Council could have its funding slashed by the Scottish Government after it failed to meet strict teacher recruitment targets.
Despite losing just six members of staff since last year, the local authority could face a crippling financial penalty from Edinburgh.
John Swinney announced a £51million fund to help council's maintain their teacher numbers earlier this year – but promised to take the money back if they lost any members of staff.
If the fund was to be divided evenly between all of Scotland's 32 councils, Moray Council would have received around £1.6million – meaning the six departures would cost the council the equivalent of £266,000 each.
The policy – which the Scottish Government insist is to ensure schools have "the right number of teachers" – has been criticised as "arbitrary" and "ill thought out".
Moray Council is now seeking "urgent clarification" about the potential penalty, which is expected to be announced in Mr Swinney's budget next week.
The local authority has lost six members of staff, but has nevertheless maintained its teacher to pupil ratio.
But the Scottish Government said both the actual number of teachers, as well as the teacher to pupil ratio, had to remain the same or improve year on year for a local authority to avoid being slapped with a fine.
A spokesman for Moray Council said: "It was our clear understanding that there would be no sanction if, as has happened, any decrease in teacher numbers was in proportion to any decrease in pupil numbers.
"That is something on which we will now be seeking urgent clarification."
Cosla, the umbrella body that represents Scotland's 32 local authorities, has strongly criticised the policy.
A spokesman for the group said: "The simple truth is that no council has failed on education. That could only happen if children had been let down in some way and there is absolutely no suggestion of that having happened in any council area.
"What has failed, as it has in other areas of public service, is a crazy, simplistic ill thought through policy.
"Whatever way you dress it up not hitting an arbitrary figure on a random day cannot be the way forward for education in Scotland. We have to be better than that.
"It is becoming increasingly embarrassing that we continue to focus so hard on delivering a target which is so educationally irrelevant."
A Scottish Government spokesman said: "No decisions on the funding provided to maintain teacher numbers will be taken before the budget statement next week."