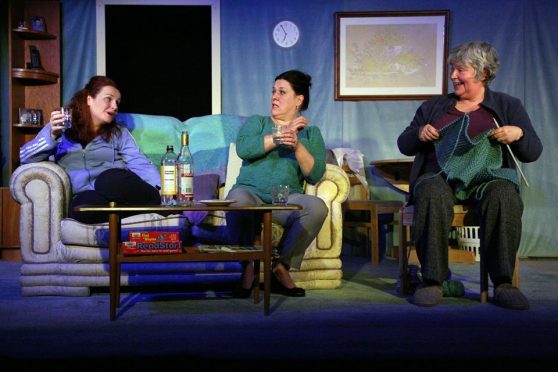 A play penned by a Moray "fishing quine" will pass through the north east when it tours Scotland next month.
Morna Young, from Burghead, was pledged £50,000 to take her show about a grieving north-east fishing community on the road.
The work "Netting" is written in Doric, and tells the story of three women who are bereaved when an accident at sea claims the lives of a father and two sons.
The show's run will begin on Friday, March 11, in Banchory before voyaging further afield.
The first of two Moray dates will take place on Saturday, March 12, at Dufftown's Mortlach Memorial Hall.
The tour schedule has been specifically planned to include some of the north-east's traditional fishing strongholds.
And there will be a performance in Moray's biggest port town on Wednesday, March 16, in Buckie's Royal British Legion Hall.
Ms Young believes that her native area is something of a spiritual home for the play.
She said: "As a born and bred fishing quine from Burghead, I grew up surrounded by amazing women – many of whom have experienced their own tragedies.
"Although this is a fictional story, I derived inspiration from their great spirit, their dark humour and wonderful personalities."
The cast has been confirmed this week, and Ms Young herself will play one of the bereft widows.
She will be joined by Scottish stage stalwart Carol Ann Crawford and Glaswegian actress Sarah McCardie in the other central roles.
Netting is a collaborative project between Ms Young, director Allie Butler and the Banchory-based Woodend Barn arts company.
The play was awarded £53,472 to tour from Creative Scotland's Open Project fund.
A full list of tour dates can be found at www.nettingtheplay.com