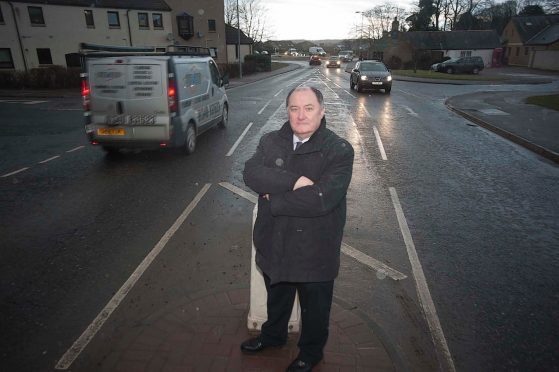 A leading councillor has claimed plans for a major expansion of the south of Elgin justify the need for a controversial congestion-busting road.
John Divers spoke out as members of the local authority's planning committee were given details of proposals for a new sports centre, school and 100 homes in the Linkwood area.
Springfield Properties is working on a masterplan for the major development.
And Elgin City South member Councillor Divers fears the already-overburdened infrastructure in his ward will struggle to cope with extra traffic.
He said the Springfield scheme underlined the need for the Western Link to be built.
And he said that if the road project fell through, the council would have to come up with a "Plan B", which could involve creating a link from the A941 Elgin-Rothes route to the proposed site.
Mr Divers said: "This development will certainly require a link road of some sort.
"Traffic around the south of Elgin, which is already overcrowded, will probably double as this progresses.
"The primary school and the sports centre will be busy, and if the Western Link Road doesn't go ahead as planned then something else will be needed to avoid congestion.
"That could be a route between the A941 and Linkwood Road.
"The bridge over the railway line is already busier than the A96, and that will only increase unless something gets done about it."
Mr Divers, who is leader of Moray Council's Labour group, was one of 11 councillors to vote in favour of spending £11.8million on the Western Link Road last year.
Last night, opponents of the route the relief road is currently planned to follow urged Moray Council to examine alternatives.
Campaigner Jim Wiseman said: "As long as the council was sensitive in how it approached an alternative route, and gave due consideration to residential areas, that is something we would support.
"Our main objection to the current plan is that it goes straight through built-up parts of Elgin.
"If traffic problems can be solved another way then that should be looked at."
However, a Moray Council spokesman said planning experts had concluded that any development in the south of Elgin would be hampered if the planned Western Link Road scheme did not go ahead.
The spokesman said: "The area's local development plan shows that any developments in the south of Elgin would be constrained without the provision of the Western Link Road."
Last year, Springfield Properties urged the local authority to "make up its mind" on a route.
The firm's managing director, Innes Smith, said he was concerned about increasing congestion in the town at peak times.
During yesterday's meeting, planning committee members were informed that the company had submitted a proposal of application notice for the Linkwood area.
Moray Council aims to build a new primary there as part of plans to tackle a looming capacity crisis at the town's existing schools, and hope to have it open in 2019.
Last month, Springfield unveiled designs for Moray Sports Centre, which will occupy 12 acres near the Linkwood distillery.
The complex will feature a 5,000sq ft gymnastics hall, and an eight-court sports hall roughly 15,000sq ft in size.
Developers anticipate that the centre, which is due to open in 2018, will link to the new primary school.
Springfield has also lodged plans to demolish agricultural sheds at Linkwood farm and put 106 houses in their place.