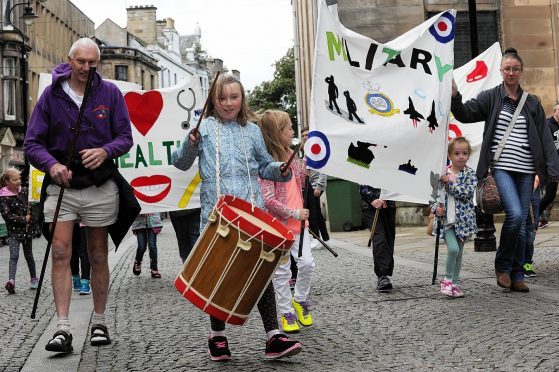 A group of Moray youngsters took part in a tradition dating back centuries as they paraded through the heart of Elgin waving colourful banners.
The march had been arranged to celebrate some of the region's most important industries, and to encourage the children to learn more about local customs in years gone by.
For nearly 800 years, the jobs of weavers, tailors and shoemakers were represented on marches through the streets.
Over the past several weeks, scores of children have laboured for hours creating large cloth banners at Elgin Museum to reflect what the region's most important sectors are today.
They fashioned designs which commemorated the area's engineering, sport, health and military employers.
Yesterday morning, crowds formed on the Plainstones in Elgin to watch the procession.
Nine-year-old Abbie MacInnes led the march as she banged a replica of the town drum, which was historically used to herald trade parades.
Juniper Gaux, from Findhorn, held a banner celebrating Elgin Museum – which the nine-year-old had made with her friend Lianna Owen.
The sheet paid homage to its exhibits by depicting some of the ancient tools the museum homes, a Dandaleith stone dating back to Pictish times and a prehistoric reptile.
Juniper, a dinosaur enthusiast, explained that the creature was named Elginia because its fossils were found in the town.
The sheets were buffeted by strong wind at points, but the youngsters managed to keep a firm grip of the billowing banners as they rounded St Giles Church and headed back to the museum.
The venue's education and outreach manager, Di Hannan, said: "The Incorporated Trades of Elgin would hold processions similar to this for centuries, with banners featuring the symbols of their guild.
"We asked our junior museum members to think of what the key trades in Elgin are today.
"They had a look at some of the old trade banners and took inspiration from that, and learned about the history of the town."
The banners will go on display at Elgin Museum for the remainder of the season, and will then be placed into storage for at least 20 years.
Museum staff hope the cloth creations will be unpacked in decades to come and used to offer an insight into the region as it is today.