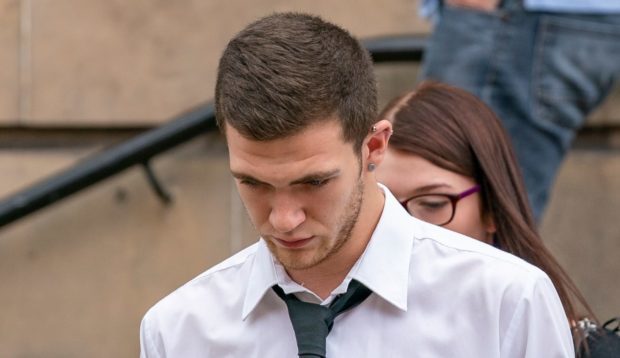 A teenager has admitted causing a horrific crash that killed a schoolgirl and seriously injured two others.
Neringa Narusyte, 14, from Buckie, died in the two-car crash nearly two years ago.
At Elgin Sheriff Court yesterday, Owen Petrie admitted causing the Buckie High School pupil's death by driving at "excessive" speeds and without due care and attention for the road.
Two other young girls, who were in the back of the car with Neringa, suffered serious injuries in the crash on the B9106 Keith to Buckie road.
At court yesterday, Neringa was described as a "typical teenager who was popular, happy and was always smiling".
Petrie, from Keith, was giving Neringa and a friend a lift home to Buckie when the crash happened on October 26, 2016.
But fiscal Iain Gray told the court that his four passengers were so concerned about how fast he was going, they repeatedly checked his Vauxhall Corsa's speedometer.
The 19-year-old hit 55mph as he went through Aultmore, where there is a 40mph zone, and later told police he had reached speeds of up to 70mph on the twisty B9016.
And when he reached a series of sharp bends at Ryeriggs, he clipped the grass verge – crashing through a road sign and spinning into a carin the opposite carriageway.
Stephen Farquhar, who was driving his Nissan in the opposite direction, told police investigators he slammed on the brakes in an attempt to stop but could do nothing avoid the car full of teenagers.
Mr Gray said: "Mr Farquhar immediately got out of his car and saw the driver and the front-seat passenger. He heard the accused say 'What have I done?'"
He added: "A care nurse who was travelling on the road at the time stopped to provide assistance while waiting for the emergency services.
"She recalled the accused saying 'This is my fault. They didn't have their seatbelts on.'"
Neringa, who was born in Lithuania but had lived in Scotland for 10 years, was pronounced dead at the scene while another 14-year-old who was a rear-seat passenger had a three-week spell in hospital in Glasgow with a broken neck, multiple rib fractures, a collapsed lung, a fractured pelvis and cut liver.
A 16-year-old girl, who was also travelling in the rear, suffered a broken collarbone. Both girls have made a full recovery.
Neither Petrie or the 17-year-old girl who was travelling in the front suffered serious injuries.
Neringa's death provoked an outpouring of emotion in Moray, with hundreds of people joining together to raise more than £6,000 for her family.
Classmates of the animal-lover sent lanterns into the sky in tribute of their friend and a special bus was organised to take pupils from the school to her funeral.
Defence advocate David Moggach declined to make any comments in mitigation of his client until the sentencing hearing next month. Petrie, of Hay Crescent in Keith, has been disqualified until he is sentenced.