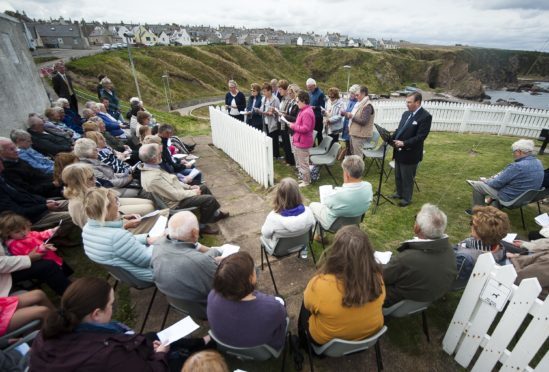 A Moray congregation has celebrated 150 years of worship with a special weekend of events.
Portknockie Church was formed in 1868 after permission to start it up was granted by the Earl of Seafield.
Initially it was known as the North United Free Church of Scotland and went through several permutations before becoming Portknockie Church of Scotland following a merger with Seafield Church in 1942 – 13 years before electricity was installed in the building.
To mark the momentous anniversary, members gathered for a rare outdoor service overlooking the town's historic harbour yesterday morning.
Session clerk Morag Ritchie said: "It's something that I haven't seen done in the church since I've been there but it might have done long ago.
"We just thought we would give it a go and we were delighted with how it went."
Yesterday morning's service was just one of a string of events taking place over the last four days to mark the anniversary.
A Songs of Praise-style celebration was held on Saturday night, while a creative exhibition showcasing the church's 150 year history was on display from Thursday.
New and old members of the church were invited in to reminisce over a cup of tea and view photographs and book excerpts detailing life in years gone by.
Many of the pictures of events including picnics, parties, weddings and Christenings had been donated by members of the church.
Mrs Ritchie added: "It was a real team effort.
"We started on it way back in February and it all came together.
"We have had lots of visitors in the church coming to see it."