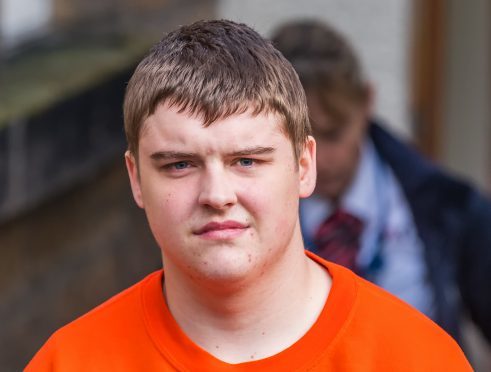 A callous Moray dad who bit off part of a man's ear before posting an image of the bloody flesh on social media has been locked up.
James Donald sunk his teeth into his victim during a fight at a Forres flat on May 4.
Yesterday, Elgin Sheriff Court heard the 20-year-old had also scarred another man for life after swinging a "machete" during a separate incident in Elgin on August 17.
Shane Drury had part of his left ear bitten off by Donald while the duo were among a group drinking in a Hainings North property.
Fiscal Kevin Corrins explained that as the men drank more alcohol, "challenges" were issued, which resulted in the pair "rolling about" on the living room floor.
When they got off the ground, it was noticed that Mr Drury was "bleeding heavily".
Mr Corrins said: "An image of the piece of flesh, understood to be Mr Drury's ear, was seen on a Snapchat account from a James Donald with the caption 'got half of someone's lug', followed by three smiley faces."
The severed piece of Mr Drury's ear was later flushed down a toilet and defence advocate Gavin Anderson stressed his client deleted the picture when he had "sobered up".
In the separate attacks on August 17, Donald punched Adrian Foster at the flat on Dean of Guild Way in Elgin, before pulling a knife out of a pool cue bag.
Mr Corrins said: "The accused began coming towards Jamie Stephen while swinging the machete back and forth."
He added: "The blade struck Mr Stephen's face, who could see blood going everywhere."
The victim required 13 stitches to his face after suffering an inch-and-a-half cut from his mouth to his cheek.
Mr Anderson revealed the dispute had begun after Donald had perceived the men to make derogatory comments about a friend of his, who died last year.
He said: "It was near the first anniversary of the death and he was struggling with that. He was taking illicitly-obtained valium and had taken them by the hundreds in the preceding days."
Donald, whose address was given as Polmont YOI, was sentenced to 40 months detention after admitting assaulting Mr Drury by biting off a piece of his ear, assaulting Mr Foster by repeatedly punching him and assaulting Mr Stephen by striking him on the face with a knife, or similar, to his permanent disfigurement and danger of life.