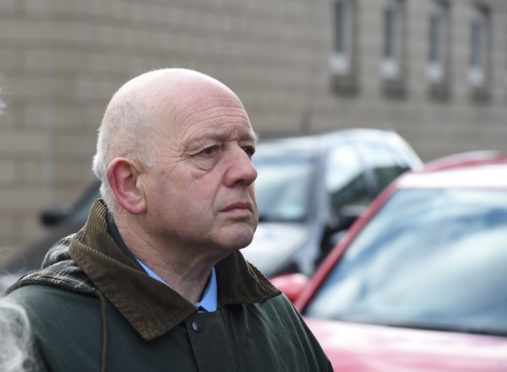 A former Gordonstoun teacher was yesterday found guilty of organising "skinny dipping" sessions for two boys and putting his hand down the trousers of a third in a "classic case of grooming".
Yesterday, Andrew Keir, 67, from Cheshire, was convicted of lewd acts against the pupils following a three-day trial at Elgin Sheriff Court.
The retired physics teacher, who taught at the school from 1983 to 1994, took to the stand himself to deny the events took place – explaining he would only have done so had he had an "evil mind".
However, Sheriff Olga Pasportnikov, threw out his protestations, explaining she found the three victims more believable.
During evidence, two of the former pupils said they were "chased" by Keir while he was naked in an attempt to remove their trunks and said they complained to the chaplain within days.
Last night Gordonstoun apologised for not taking their concerns seriously at the time.
A spokeswoman said: "During the trial it became clear that the school's response at the time of the offences was not as robust and rigorous as it would be now, and we are very sorry for this."
A third boy only went to the police when the school wrote to all alumni three years ago when the allegations of another victim came to light.
The man explained the teacher, who also instructed judo, became inappropriate with him by touching his crotch and bottom during a martial art grappling.
Keir then put his hand down the boy's trousers after inviting him to the physics lab to play computer games alone one evening.
Fiscal Alison Young said: "We have a case of classic grooming – starting off with inappropriate touching during judo, to see what the reaction is, the boy doesn't tell anyone, then it moves to the more serious incident."
But defence advocate Susan Duff said: "If someone wants to make an allegation, it isn't a difficult thing to say, for example, he raped me. People tell lies all the time."
Keir, of Calveley in Cheshire, was found guilty of two charges of lewd, libidinous or indecent practices by removing his swimming trunks in the presence of children between November 1988 and March 1989 and a further breach of the peace charge by asking a child to remove his swimming trunks and a charge of indecent assault by putting his hand down a boy's trousers, which both happened during 1991.
Sentence was deferred until next month for reports.